Study links online transparency efforts, trust in government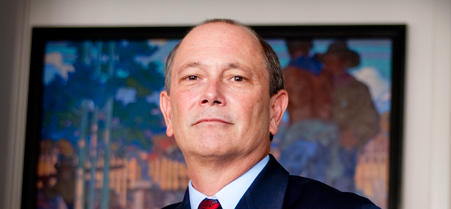 Transparency also can save money by encouraging citizens to access services online, says Dave McClure, head of GSA's Office of Citizen Services and Communications. James Kegley
The first-ever quantitative assessment of online open government efforts has concluded that the perceived transparency of federal Web sites drives trust in government.
ForeSee Results, a market research firm, conducted the study, which was slated to be released publicly on Tuesday. Nextgov was briefed on the results by ForeSee Results.
Over the past year, many organizations have tracked the amount of previously undisclosed information that agencies are posting online. Earlier this month, the White House began tracking compliance with the president's open government directive. But no one has measured the effects of Web-based disclosure on American public opinion.
The longstanding approach to quantifying transparency has been, "well let's measure how much data they put out there," said Larry Freed, ForeSee Results' president and chief executive officer. "To me, that's not measuring transparency. That may be measuring confusion."
Freed opted instead to survey citizens on their reactions to government Web sites, using the model of the American Customer Satisfaction Index , for which ForeSee Results also collects data. Researchers asked users questions related to how thoroughly the sites disclosed information about what the agency is doing, how quickly information was made available online and how accessible that information was on the sites. The answers were then run through the ACSI statistical engine to generate a score on transparency. Many agencies already measure satisfaction with their sites using the ACSI e-government index .
The transparency project surveyed more than 36,000 citizens who visited 14 federal sites during the fourth quarter of 2009. The aggregate transparency score was 75 on a 100-point scale. The authors acknowledged that there are thousands of federal sites beyond the 14 that volunteered to participate. "Even those that appear to have lower scores in this short list of 14 would certainly be nowhere near the bottom of the pack in a comprehensive index of federal government online transparency," the report states.
Agency sites that scored the highest included the Agriculture Department's Center for Nutrition Policy and Promotion (83), the Health and Human Services Department's National Mental Health Information Center (81), the State Department's Bureau of Consular Affairs (79) and the main site of the General Services Administration (78).
"If citizens find e-government transparent, they are more likely to return to the site, recommend it, and use it instead of a more costly channel," the study found. "They even express more trust in the government agency."
Citizens who believe a site is highly transparent are 46 percent more likely to trust the overall government, 49 percent more likely to use the site as a primary resource and 37 percent more likely to return to the site, according to the study.
"We have always assumed that greater transparency [and] more openness in government would link to greater satisfaction and higher trust in government," said Dave McClure, GSA's associate administrator for its Office of Citizen Services and Communications, who also was briefed on the results. "What this study does is help confirm that."
McClure also noted that a site's perceived transparency can save the government money by encouraging citizens to access services online, rather than through less efficient channels. He said all agencies should consider the value of measuring online transparency, but stopped short of saying such efforts should be mandatory.
The open government directive calls on agencies to use technologies that facilitate transparency, public participation and collaboration among the private sector and agencies at all levels of government. Freed said agencies will have a hard time achieving those goals without adequate ratings. "For a lot of these sites, it's the first step in the road to improvement," he said. "They use [the findings] as evidence. It helps them get funding to improve."
To increase transparency, GSA tried to make it quick and easy for customers to find information about its services, such as vehicle leasing and telecommunications services, McClure said. The top of the home page lists the most requested links, including privately-owned vehicle mileage reimbursement, government properties for sale and contracting regulations. In addition, the department makes an effort to publish its content with context, which makes the information easier to read than raw data alone, McClure said.
In developing State.gov , which earned a 74, officials strove to create a reliable source of information on foreign policy and the work of the department -- and make sure users could actually find that information -- said Janice Clark, acting director of State's Office of Electronic Information.
The department added a "Policy Issues" tab that breaks out hot topics determined to be the most popular. Officials also incorporated into every page a supplemental search mechanism called "Browse By," where users can click on facets of State listed from A-Z. Since launching this navigation tool in May 2009, the A-Z lists have received more than half of all hits to State.gov, Clark said.
Other departments that want to make their sites more transparent "should stand firm when those at the helm pressure them to ignore what the audience wants, and instead design for the internal audience," she said. "We've had to fight that battle several times at the State Department, though I'm pleased to be able to say that our December 2009 design was a happy marriage of meeting the information needs of our public audience as well as the internal."
Some outside e-government researchers who reviewed ForeSee Results' findings said the study is asking the right questions to gauge online transparency but claims made by the research firm go beyond the limited data collected.
"What can you say about the totality of government Web sites with only 14 sites? Well, you can't say much at all," said Anthony M. Cresswell, deputy director of the Center for Technology in Government at the State University of New York's University at Albany. The center works with governments on information strategies that aim to improve the quality and cost effectiveness of public services.
While Freed believes the research reflects citizen attitudes, he acknowledged it is difficult to judge the transparency of the federal government as a whole based on 14 sites. But he noted that 30,000 citizens is not a trivial number of people to survey. In working with government agencies for nine years, ForeSee Results has found that a smaller sample can be representative of the broader government because of the ACSI methodology used, he added. The general claims that there is a relationship between transparency and both trust levels and future behaviors are supported by an extensive testing period that went beyond the 14 sites surveyed, he said.
ForeSee Results anticipates that more than 30 sites will participate in the next index, which will cover the first quarter of 2010.
What Transparency Means
Citizens who ranked agency Web sites as being more transparent also were more satisfied with those sites, said they were more likely to return to and recommend the site, and trusted the site more.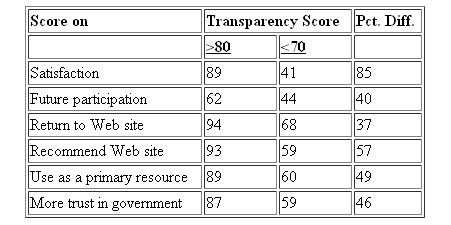 Source: ForeSee Results