USAF wants its future robot wingmen to fly with sister services as well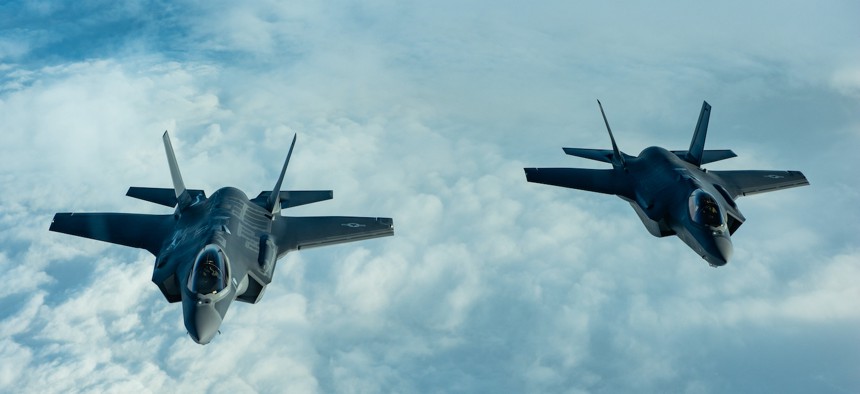 DAYTON, Ohio—The Air Force is telling defense companies it wants different, faster ways to buy and sustain drones that will accompany fighter pilots into combat. 
"I think most people looking in from the outside, they have an expectation that it's business as usual…it's not," Brig. Gen. Dale White, program executive officer for fighters and advanced aircraft, told reporters Tuesday. 
Buying what the Air Force calls "collaborative combat aircraft" won't be an "extended development program," White said. Service officials want to start production on these drones before the end of the decade. 
Air Force Secretary Frank Kendall has said the service plans to buy 1,000 CCAs: 300 F-35s will get two drones apiece, as will 200 of the planned Next Generation Air Dominance, or NGAD, aircraft. The Air Force is asking Congress for $1.9 billion in 2024 for the NGAD program and $500 million for collaborative combat aircraft. 
Developing these drones is also "understanding what the art of the possible is with industry and the relationships we built with industry through this process, not just CCA, but the whole NGAD family of systems," White said. 
The Air Force wants CCAs to be interchangeable with other services' platforms—reaching a point where an Air Force operator could hand off a drone to a Navy operator. 
"We need to have some interoperable nature of what these capabilities are because we're not the only service pursuing this capability, and so we want to make sure we have some interoperability there," White said. 
Producing the drones will look more like software development and less like traditional aircraft development, Air Force Chief of Staff Gen. CQ Brown said Monday. The service will also spend less on updating and fixing CCAs, Brown said.
"In the past, we have just built and selected better versions of the aircraft we built before. CCAs will break the mold," Brown said. 
The pivot to CCAs will "require a whole different approach to maintenance and sustainment," Brown said. 
Congress is also invested in drone development, and included provisions in the House Armed Services Committee's version of the annual defense policy bill that would require Air Force and Navy secretaries to submit reports on CCA development. It also divides up the type of drones into three categories: "expendable," "attritable," and "exquisite." White said the Air Force is still figuring out what exactly each of those categories means. 
"I think as we continue concept refinement, we continue to learn, we'll have a better idea of what each one of those categories means and then we'll continue our relationship and communication with our partners on the Hill to address that," White said. 
The Air Force wants to bake into the design of CCAs the ability to deliver "flexible operations" to a commander depending on their need, he said. 
White also hinted they will announce at the annual Air & Space Forces Association conference in September "four specific areas" the service is focusing on to develop CCA missions.