Coast Guard wants better internet on its ships, and more recruits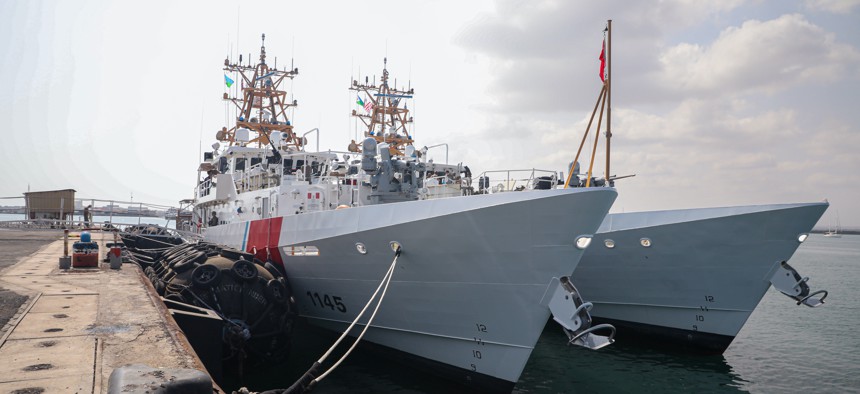 Commandant Fagan ties increased connectivity to operational needs and improving Coasties' quality of life.
The Coast Guard is working to get better internet access to its ships, both to streamline operational communications and to shore up sagging recruitment efforts, its commandant told lawmakers last week.
Increased connectivity will serve a "critical need to communicate with the ships at sea as more applications and systems go online," Adm. Linda Fagan said on July 27, speaking to members of the House Committee on Transportation and Infrastructure's subcommittee on Coast Guard and Maritime Transportation. But it's also "a quality-of-life issue for our members, and we remain committed to improving that experience so that the folks that go to sea have [an] enjoyable experience and are able to continue to communicate with their families."
Better connections may also help recruiters pitch Coast Guard service to young people; Fagan testified that the service is about one-quarter short of its goal to bring on more than 4,000 enlisted personnel this year.
The Coast Guard has grappled with its aging IT systems and ways to improve them, such as by making applications more mobile, in recent years. But that strategy could help with workforce morale and retention. 
Rep. Salud Carbajal, D-Calif., the subcommittee's chair, said reliable internet was key for Coasties at sea, who rely on video calls with loved ones, as a means for personnel development, and could boost retention in the service.
"In the Coast Guard, the life of a cutterman can be difficult. They can feel incredibly distant and isolated from their loved ones while out at sea. Being able to connect via video calls like FaceTime or Zoom with family and friends can be a huge morale booster and lead to improved productivity," Carbajal said. "Furthermore, having access to reliable internet so that a member can take an online course or attend to personal affairs can improve retention in the service overall, but especially in the afloat community." 
The Defense Department and military services have been working to improve bandwidth and connectivity, both on its bases and to support telework from home.
The commandant has previously spoken about tech issues, including prioritizing data analysis across the service to improve leaders' decision-making. But the focus on tech comes as the Coast Guard, like the Army, is suffering with recruiting. Fagan said Wednesday that improved personnel data systems could help the branch make "well-informed human resource decisions" and provide professional development to sailors as they grow in their careers. 
Moreover, the service is still contending with cultural challenges with personnel around retaliation, harassment, and sexual assault. According to a July 29 privacy announcement, the Coast Guard has expanded the data it collects for the Defense Department's sexual assault database, which pertains to individuals involved in reported cases, to include its civilian personnel. 
The service branch already collected personally identifiable information, such as name, social security number, and address for individuals involved with sexual assaults reported to the Coast Guard, including those among the general public, active duty and retired Coast Guard, reserve military personnel, and eligible dependents.