CISA infrastructure chief Brian Harrell resigns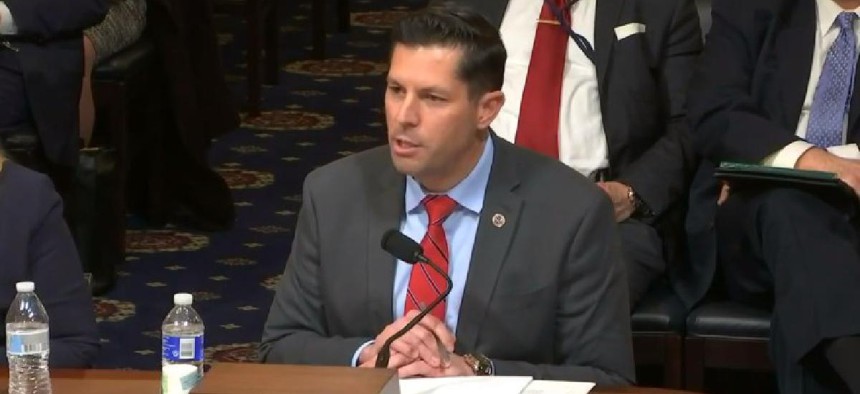 The assistant director, charged with helping to protect critical infrastructure from physical and cyber threats, will be returning to the private sector, the agency confirmed.
Brian Harrell testifies at a Feb. 2020 House Homeland Security Committee hearing
Brian Harrell, Assistant Director for Infrastructure Protection at the Cybersecurity and Infrastructure Security Agency is resigning from his post, the agency confirmed to FCW.
Harrell announced his departure to agency employees today, saying he was returning to the private sector. Deputy Assistant Director Steve Harris will replace Harrell on an acting basis, the agency said.
Harrell was appointed to his post by President Donald Trump in November 2018. Harrell previously worked as managing director of enterprise security at Duke Energy Corporation and director for critical infrastructure protection at the North American Electric Reliability Corporation.
CISA is often known more for its cybersecurity work, but a congressionally mandated reorganization in 2018 was designed in part to more closely tether the Department of Homeland Security's cyber and physical security missions, particularly as it began to focus more on safeguarding critical infrastructure.
Many entities face both physical and cyber threats on a daily basis, and consequences in one area can often bleed into the other. Harrell's work often touched on both, leading a number of federal initiatives focused on providing physical protection for utilities, oil and gas pipelines and schools along with high-profile events like the Super Bowl. CISA also touted his work helping to launch resources like SchoolSafety.gov and enhancing the agency's relationship with public and private sector partners.
Harrell's exit comes on the heels of a number of departures from other cyber focused feds in the last year, including Jeanette Manfra, CISA's Assistant Director of Cybersecurity, Rob Strayer, Deputy Assistant Secretary for Cyber and International Communications at the State Department, Amy Hess, executive assistant director of the Criminal, Cyber, Response and Services Branch at the FBI and Grant Schneider, federal Chief Information Security Officer.
Politico first reported on Harrell's impending resignation.