Russian troll farm indictment could boost social media legislation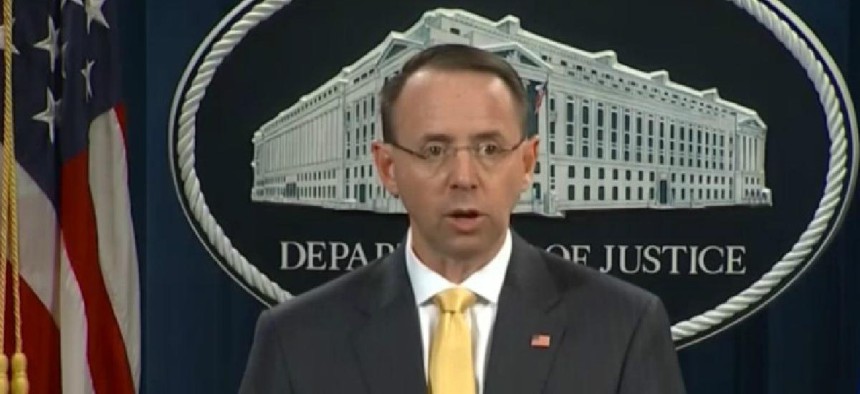 The indictment of 13 Russian nationals accused of online and offline activity designed to interfere with the 2016 election may boost the fortunes of a bill to strengthen disclosure rules around online political ads.
Deputy Attorney General Rod Rosenstein announces indictments against Russian groups and individuals accused of tampering with U.S. elections.
The Justice Department's indictment of 13 Russian nationals for using social media accounts to interfere in the 2016 presidential election may give new life to a pending bill to bolster disclosure requirements around social media.
The indictment, a result of the probe by Special Counsel Robert Muller, accuses the 13 nationals as well as three organizations with conducting electronic warfare on behalf of the Russian government during the 2016 campaign. One of those organizations, the Internet Research Agency, has long been identified as a troll farm that conducts disinformation operations and electronic warfare on behalf of the Russian government.
Deputy Attorney General Rod Rosenstein, who is overseeing Mueller's investigation, announced the indictments at a Feb. 16 press conference.
Prosecutors allege the defendants created fake U.S. identities and stole real ones in order to conduct disinformation campaigns on social media and sow discord within the U.S. political process. All have been charged with conspiracy to defraud the United States, five face additional charges of identity theft and three of conspiracy to commit wire and bank fraud.
The indictments may also boost the profile of a bill to compel greater disclosure around political advertisements on social media platforms, which has thus far languished in Congress over the past year.
Current laws prohibit political campaigns from receiving money or direct assistance from foreign governments, but loopholes that allow for the dissemination of election-related advertising that does not explicitly call for the election or defeat of a specific candidate. Campaign finance watchdogs also point out that digital platforms like social media are not covered by laws that require buyers of political advertising on radio and television to disclose their identity.
The Honest Ads Act, sponsored by Sens. Mark Warner (D-Va.), Amy Klobuchar (D-Minn.) and John McCain (R-Ariz.), requires websites with 50 million or more unique U.S. visitors per month to disclose information about any ads purchased on their sites in excess of $500.
The Honest Ads Act was introduced in October 2017 but hasn't moved past a committee referral. Shortly after the charges were announced, a key sponsor took the opportunity to revive interest in the legislation.
"A federal grand jury just indicted 13 Russians for interfering in the 2016 elections—largely through social media engineering & anonymous online ads," tweeted Sen. Amy Klobuchar (D-Minn.).
To go by an October House hearing on foreign interference in U.S. elections, such legislation may face an uphill climb, with many Republicans skeptical of the need for new regulations.
The Campaign Legal Center, a nonprofit organization dedicated to stricter campaign finance laws, also released a statement urging Congress to pass the legislation.
"It shouldn't require an extensive Special Counsel investigation to address foreign interference in our elections. Had effective online disclaimer and disclosure laws been in place in 2016, Russia's wide-ranging influence campaign might have been detected sooner -- or Russia might have been deterred from engaging in the effort in the first place."
The Federal Election Commission also voted in November 2017 to strengthen disclaimer rules for online advertisements.