Putin Claims Russia Proposed Cyber War Treaty in 2015 But Obama Administration Ignored Them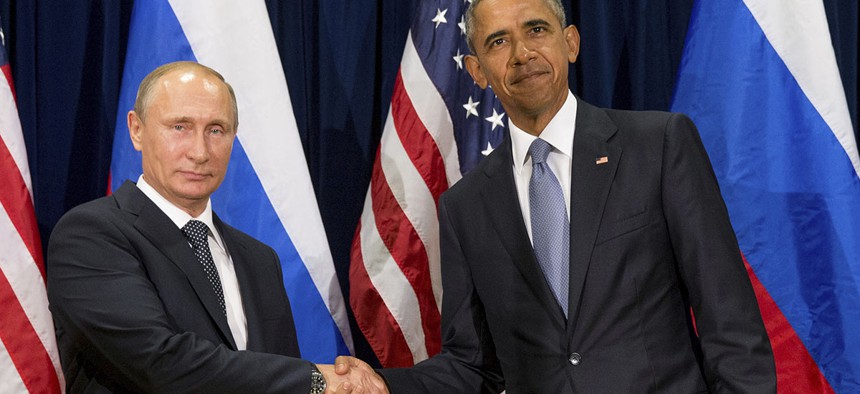 Much of the legal turmoil that has swept through Washington in recent months can be traced back to one major thing: Russia's alleged hacking of the 2016 presidential election in President Donald Trump's favor.
Now, Russian President Vladimir Putin (who denies any Russian part in the hacking) claims the Obama administration ignored a proposal in 2015 that might have avoided all of this. His administration suggested working out a cyber treaty with the U.S. but was ignored by Obama officials, Putin told film director Oliver Stone in Showtime's four-part series broadcast this week.
"A year and a half ago, in fall 2015, we made proposal to our American partners that we work through these issues and conclude a treaty on the rules of behavior in this sphere," he said in Stone's documentary "The Putin Interviews." "The American side was silent, they didn't reply to us."
Obama's office didn't reply immediately to email and phone requests for comment—we'll update if it does.
When Stone compared the Stuxnet virus, designed by the U.S. to sabotage Iranian centrifuges in 2010, to dropping an atomic bomb on Hiroshima and Nagasaki, Putin didn't shy away from the question.
"I think the comparisons between Stuxnet and nuclear weapons is too much," he said. "But should we fail to agree to rules of conduct in this field, I agree with you on that one, the consequences of this spiral of action could be very grave and even tragic."
However, Putin rejected suggestions that a cyberattack by the U.S. could cause panic in Russia and obliquely suggested his country is less at risk than the West.
"It's almost impossible to sow fear among Russian citizens," Putin said in the interview, which took place in March. "The most vulnerable to these attacks are the more technologically advanced economies. But in any case, this is developing into a very dangerous standoff and we need some rules of the game here."
A 2012 report by London-based Chatham House think tank suggested the U.S. had "resisted" Russian ideas for a treaty that year:
This may relate to US plans to use the Internet for offensive purposes as it is believed to have done regarding the Stuxnet worm. US officials claim publicly that Cyber Command is primarily defensive, but the reluctance to entertain the idea of a cyberspace disarmament treaty is raising questions about the true US position.
The Russian president also ridiculed Obama and Vice President Joe Biden's promises in late 2016 that they would take action against Russia's attacks.
"Firstly, they said 'at the time of their choosing,' but they didn't have much time left at the end of their administration. To be honest, I don't want to offend or insult anyone, but what happened in the last few days reminds me of the last days of the Politburo of the Communist Party, when they gave orders and stars and medals to each other," Putin said, referring to Obama's awarding Biden the Medal of Freedom. "I thought that was very funny, to be honest. So back then, I understood that the administration had run out of time to take any serious decisions."
Asked if Trump could be the man to work with on a new treaty, however, Putin offered little.
"We have to open a new page in U.S.-Russia relations," he said.