Boente tapped as DOJ's acting national security chief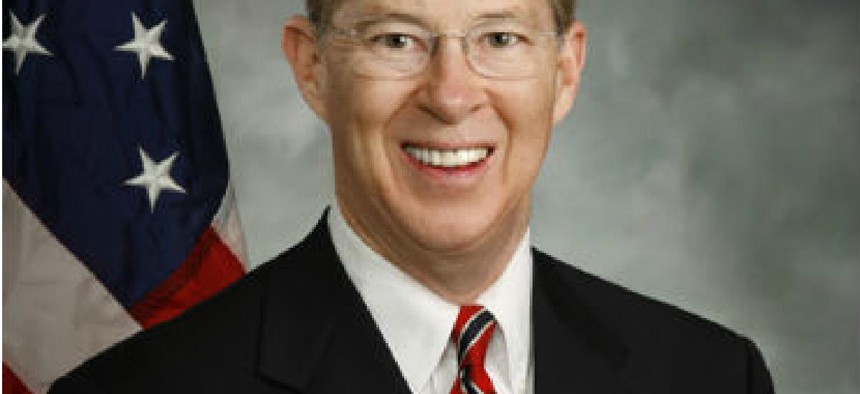 Dana Boente is moving to his third acting position in the Department of Justice since January, replacing Mary McCord as acting assistant attorney general of the National Security Division.
Dana Boente, who in January replaced Sally Yates as acting attorney general amid a standoff over an executive order, has now been appointed as acting assistant attorney general of the Justice Department's National Security Division.
Yates took over as acting attorney general at the start of the Trump administration, but the president fired her on Jan. 30 after she refused to enforce his initial travel ban.
A White House press release stated that Yates "betrayed the Department of Justice by refusing to enforce a legal order designed to protect the citizens of the United States."
Boente took over at that time as acting attorney general, and then moved to acting deputy attorney general after the Senate confirmed Jeff Sessions.
When Sessions recused himself, Boente took charge of the Department of Justice's probe into Russia's interference in the 2016 election and possible coordination between Russia and Trump associates.
With the April 25 confirmation of Rod Rosenstein as deputy attorney general, Boente will replace the retiring Mary McCord, who has been serving as acting attorney general for national security since John Carlin left the department last fall.
"Dana Boente has been a dedicated public servant for decades and has served in important leadership roles in the Department of Justice," Sessions said in a press statement. "In recent months, he has provided extraordinary leadership during the transition period. I am pleased that he has agreed to continue his service by leading our efforts to keep America safe. I also thank Mary McCord for her dedicated service to the department."
Boente will also continue to serve as U.S. attorney for the Eastern District of Virginia. He previously served as U.S. attorney for the Eastern District of Louisiana and principal deputy assistant attorney general of the Tax Division.
Yates remains a pivotal figure in ongoing investigations into Russia's campaign to influence the 2016 election. According to Washington Post reports in January, Yates warned the incoming administration that Trump's pick for national security advisor, Michael Flynn, had not been honest in his statements about contacts with Russian officials and could be vulnerable to Russian blackmail or "Kompromat."
In a March 14, letter, the House Permanent Select Committee on Intelligence invited Yates to testify about "Russian cyber activities directed against the U.S. election, potential links between Russia and individuals associated with political campaigns, the U.S. government's response to these Russian active measures, and related leaks of classified information."
Subsequently, Yates' attorney told the House committee that the DOJ and the administration objected to Yates testifying on the grounds that it would violate presidential communications privileges. The White House denied it was preventing Yates from appearing before Congress.
Regardless, House Republicans cancelled the hearing where Yates was scheduled to testify.
On May 8, Yates will testify along with former Director of National Intelligence James Clapper before the crime and terrorism subcommittee of the Senate Judiciary Committee.