What Does Trump's Hiring Freeze Mean for Federal Cyber Shortage?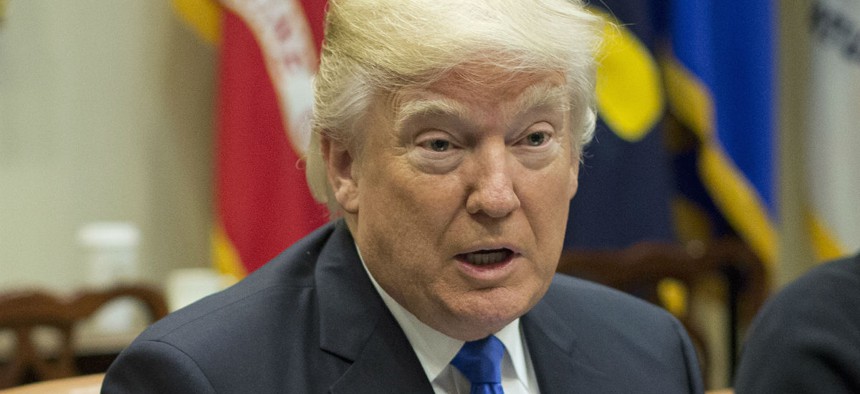 On his first official day in office after inauguration, President Donald Trump has made good on his plan to institute a federal hiring freeze—part of his effort to slash the federal workforce. 
Details are sparse: Trump has said there would be exceptions for the military, and a White House memo notes the freeze would be waived "when necessary to meet national or public safety responsibilities."
Some experts fear a temporary hiring freeze could exacerbate a chronic problem in the federal government: a widespread shortage of cybersecurity talent.
A hiring freeze could signal to essential cybersecurity talent—especially those who might consider joining the public sector from higher-paying industry jobs—that there's no need or desire for them in the federal government, Alan Chvotkin, executive vice president of the Professional Services Council, told Nextgov.
And it could have a "number of potential negative repercussions, including growth in contractors that are making important technical decisions that the federal government should be making," former White House Deputy Chief Technology Officer Nick Sinai told Nextgov.
Many federal officials have discussed a dire, but not currently quantified, dearth of cybersecurity talent, especially in the wake of the massive breach of the Office of Personnel Management system that compromised the background check information of more than 22 million people.
Barack Obama's White House unveiled an ambitious Cybersecurity National Action Plan last year, which allotted $62 million to investing in cybersecurity education nationwide, eventually to bolster the federal cybersecurity workforce. Trump's cybersecurity plan outlined a general intent to "[o]rder an immediate review of all U.S. cyber defenses and vulnerabilities, including critical infrastructure, by a Cyber Review Team of individuals from the military, law enforcement and the private sector."
Before her term ended, former OPM Acting Director Beth Cobert led an ambitious effort to ramp up cybersecurity recruiting. Under her tenure, OPM began working with Homeland Security Department to create a better "human resource management system for its cyber workforce," according to her exit memo. That effort aims to help hiring managers be more flexible in hiring processes and pay to onboard cyber talent.
Cobert had also promoted an "excepted hire" system, called the Cyber Civilian Hire Service, which would help tech professionals switch government jobs without entering a new competitive process. Cobert advised against a hiring freeze in an exit interview with The Washington Post.
The federal government's IT employees skew older, meaning the technology workforce could attrit rapidly if faced with a hiring freeze, Mallory Barg Bulman, the Partnership for Public Service's director for research and evaluation, told Nextgov. There are almost three times as many IT specialists over 60 years old as there are under 30, she said.
For agencies that have a high percentage of retirement-eligible cyber employees, it's essential to make sure the ones who remain are engaged, Bulman said.
"IT specialists within government tend to report lower levels of engagement than other workers," she said. Agencies who want to retain cyber talent during a hiring freeze should devote resources to training and retaining those employees.
"Citizens demand a lot of government, and the new administration has talked a lot about improving the services citizens get," she added. "Our government can't do that without IT talent."
The hiring freeze also requires the Office of Management and Budget to create a long-term plan, within 90 days, for cutting the federal workforce.