Senate Dems Push for Independent Commission to Review Russian Election Meddling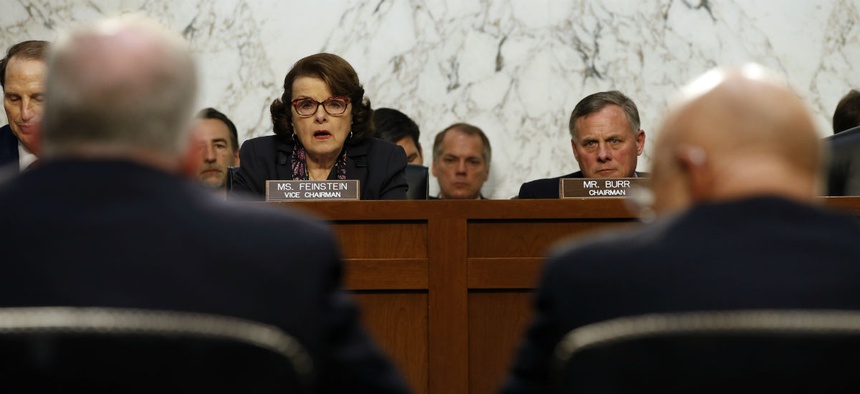 Five Senate Democrats introduced legislation Wednesday to create an independent, nonpartisan commission to investigate Russian meddling in the 2016 presidential election.
The bill follows similar legislation introduced last Congress in the House.
"An attack against our election system is an attack on our very way of life and must not go unchallenged," Sen. Dianne Feinstein, D-Calif., a bill sponsor and the incoming ranking member on the Senate Judiciary Committee, said in a statement.
» Get the best federal technology news and ideas delivered right to your inbox. Sign up here.
The eight commissioners would be appointed two each by the top Democrat and Republican in the House and Senate and should be "prominent United States citizens with national recognition and significant depth of experience in professions such as governmental service, law enforcement, armed services, law, public administration, intelligence gathering, cybersecurity, election administration, and foreign affairs," according to the bill.
The nature of the commission's work would likely necessitate the members already had high-level security clearances.
Commissioners would have access to all classified and unclassified intelligence information about Russian actions to influence the election as well as subpoena power, according to a fact sheet.
They would be tasked with making recommendations to Congress and the executive branch within 18 months in both classified and unclassified forms, including a plan to counter future interference.
Other sponsors are outgoing Homeland Security ranking member Tom Carper, D-Del., and Sens. Ben Cardin, D-Md., Patrick Leahy, D-Vt., and Amy Klobuchar, D-Minn.
A coalition of 15 bipartisan former foreign policy and defense officials also called for an independent commission investigation in a Wednesday statement, including former Secretary of State Madeleine Albright, former Secretary of Defense Leon Panetta and former 9/11 Commission Co-chair Lee Hamilton.
Basing the review outside of Congress will "ensure that the investigation is comprehensive and not siloed within a certain congressional committee's jurisdiction," that statement notes.
"Anything less than a swift investigation will leave us vulnerable to another attack and, possibly worse, permit and normalize future interference," the former officials state.
Senate Majority Leader Mitch McConnell, R-Ky., and House Speaker Paul Ryan, R-Wis., have insisted thus far all congressional probes into the election meddling should be managed in regular order by those chambers' intelligence committees.
President-elect Donald Trump has consistently said he does not believe the intelligence community's conclusion that the Russian government was responsible for data breaches at Democratic political organizations that wreaked havoc on the campaign of his opponent, Democratic nominee Hillary Clinton.
His most frequent argument is that it is simply too difficult to make strong attributions in cyberspace, a mostly dubious claim.  
Trump said he would be briefed on the attribution early this week but later tweeted the briefing was delayed until Friday. Intelligence officials disputed that the briefing had actually been delayed, according to TV reports.
"The 'Intelligence' briefing on so-called 'Russian hacking' was delayed until Friday, perhaps more time needed to build a case. Very strange!" Trump tweeted.
He also tweeted the hacked Democratic National Committee did not have "hacking defense," which left it vulnerable. In fact, DNC cyber defenses were subverted by a phishing email an employee mistakenly clicked, allowing hackers to bypass those defenses.  
Trump's refusal to accept the conclusion reflects "very sincere and healthy skepticism about American intelligence conclusions," Vice President-elect Mike Pence said Wednesday during an appearance with congressional leaders.
Incoming Senate Intelligence ranking member Mark Warner, D-Va., shot back during an MSNBC appearance that "the most important thing the intelligence community can always do is speak truth to power and it seems like perhaps the president-elect doesn't want to hear those truths."
The sniping comes amid a larger dispute between the two administrations. President Barack Obama announced a slate of retaliations against Russia last week, including sanctioning Russian intelligence agencies and top intelligence officials and expelling 35 Russian diplomats from the U.S. who the State Department claims are actually spies.
Trump suggested he might reverse those actions after he takes office Jan. 20 and praised Russian President Vladimir Putin on Twitter for not immediately striking back.
Obama has ordered a separate review of foreign hacking related to U.S. elections dating back to 2008. Intelligence officials will deliver that report before Obama leaves office.