At Least One State Declines Offer for DHS Voting Security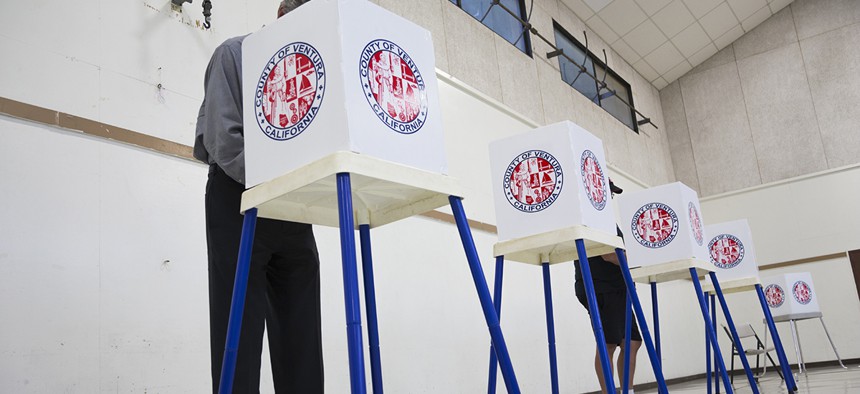 Some security experts say it wouldn't even take the resources of a foreign nation to manipulate actual votes using this country's antiquated tallying systems.
At least one state has declined an offer from the Homeland Security Department to scan its voting systems for hackers ahead of the presidential elections. 
As suspected Russian-sponsored attackers compromise Democratic Party and other U.S. political data allegedly to sway voter opinion, some security experts say it wouldn't even take the resources of a foreign nation to manipulate actual votes using this country's antiquated tallying systems.
Against this backdrop, Homeland Security Secretary Jeh Johnson during an Aug. 15 call with state election officials, offered states DHS services that can inspect voting systems for bugs and other hacker entryways. Earlier in the month, he also suggested the federal government label election systems as official U.S. critical infrastructure, like the power grid. 
» Get the best federal technology news and ideas delivered right to your inbox. Sign up here.
But one battleground state, Georgia, intends to rely on its own security crew to maintain the integrity of voter data. 
"The question remains whether the federal government will subvert the Constitution to achieve the goal of federalizing elections under the guise of security," Georgia Secretary of State Brian Kemp told Nextgov in an email. "Designating voting systems or any other election system as critical infrastructure would be a vast federal overreach, the cost of which would not equally improve the security of elections in the United States." 
Georgia, where some projections show presidential contenders Hillary Clinton and Donald Trump neck and neck, reportedly could use a vote machine reboot. 
"Georgia, which is running electronic-only machines—there's no paper trail. ... And the machines they're using are more than a decade old, so the hardware is falling apart. And the operating system they're using is Windows 2000, which hasn't been updated for security for years, which means it's a sitting duck," Zeynep Tufekci, a University of North Carolina information and library science professor, told NPR on Saturday.  
There is no evidence ballot manipulation has ever occurred in the United States, and, per Johnson, DHS is not aware of any credible cyberthreats related to 2016 general election systems. 
All the same, vote machine hacks are all the rage among researchers at Las Vegas hacker confabs.  
Even top White House tech privacy adviser Ed Felten helped demonstrate the weaknesses of digital voting booths in his previous life as a Princeton University academic. 
In a 2009 paper Felten co-authored, researchers commanded an AVC Advantage voting machine—the kind still deployed in Pennsylvania and other states—to steal votes. No internet required. They altered a pretend election by inserting a malicious memory cartridge the size of a paperback book that would typically be used for recording votes. The tainted device combined snippets of authorized code inside the system to cause the unauthorized behavior.   
"An attacker who has access to the machine the night before an election can use our techniques to affect the outcome of an election by replacing the election program with another whose visible behavior is nearly indistinguishable from the legitimate program but that adds, removes or changes votes as the attacker wishes," Felten and colleagues from Princeton, University of California at San Diego and the University of Michigan wrote in "Proceedings of the 2009 Electronic Voting Technology Workshop." 
No Recounts
Because of hacking concerns, many states are keeping a paper trail to audit the vote count, but not all. 
In addition to Georgia, parts of Pennsylvania, another tossup state, do not maintain paper backups in the event of a hack, Tufekci said.
Pennsylvania officials say cybersecurity experts from the commonwealth's IT shop work closely with the state elections team to secure voting-related infrastructure.
"Pennsylvania has implemented policies, technologies, best practices and procedures around the safeguarding of data and the protection of our applications, systems and resources," Pennsylvania Department of State spokeswoman Wanda Murren said. "We constantly monitor our data and systems for vulnerabilities and attempted attacks in order to keep pace with the rapidly evolving threat landscape."
She declined to go into specifics as a matter of policy.
Update:  On Aug. 30, Pennsylvania Deputy Secretary of Elections and Administration Marian K. Schneider said in a statement that Department of State had been in touch with DHS officials about how they could be of assistance in Pennsylvania.
A Homeland Security spokesman told Nextgov on background "several states" currently use DHS hygiene scans and assessment services for voting systems. He would not disclose the names of any jurisdictions.
Florida, where Trump has been down nine points, declined to say whether it will ask DHS to scan local voting machines but did participate in the national teleconference with Johnson. 
The Florida secretary of State Department "is engaged with DHS, in addition to all of our other state and federal stakeholders, on an ongoing basis to help ensure the security and integrity of Florida elections," department spokeswoman Meredith M. Beatrice said. 
Ohio, where Clinton has a narrow advantage over Trump, appears to be taking advantage of some DHS support for election cybersecurity.
"The Ohio Department of Homeland Security is working with their federal counterparts, so we are working through them to perform the needed scans," Ohio secretary of state spokesman Joshua Eck told Nextgov in an email. 
Richard Clarke, a former National Security Council adviser under presidents Bill Clinton and both of the George Bushes, cautions it could be hard to detect a slight manipulation of voter data in some swing precincts.
"Smart malware can be programmed to switch only a small percentage of votes from what the voters intended. That may be all that is needed," Clarke, now an ABC News consultant, commented last week. 
Correction: The original version of this article indicated that Pennsylvania had declined an offer from the Homeland Security Department for help in protecting its voting systems from hackers. While Pennsylvania officials indicated they had their own cybersecurity experts working on the issue, they also have had discussions with DHS about what kind of help the department could provide. The headline and the article have been updated.
Sept. 6 update: Georgia officials now say they are awaiting direction on what DHS plans to offer and how it plans to offer such assistance to state election officials.