DHS Readies Biometric ID Contract to Track Foreigners Who Stay Too Long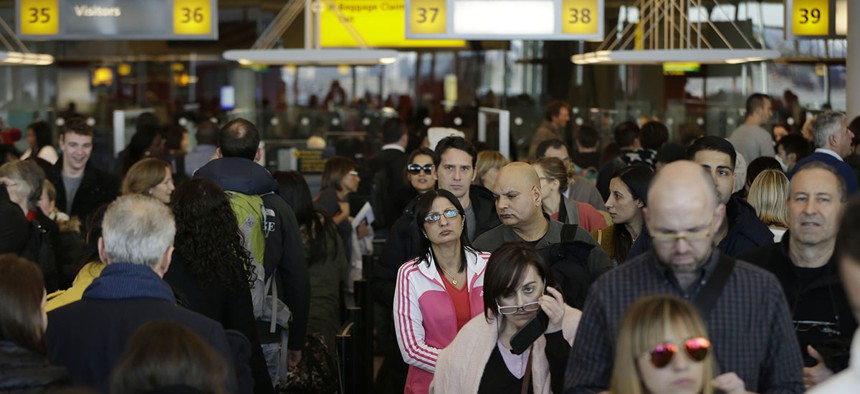 The Homeland Security Department is asking industry how to go about contracting out the activation of the long-overdue system.
The Homeland Security Department is asking industry how to go about contracting out the activation of a long-overdue system for scanning the biological traits of foreigners when they leave.
The potentially $7.2 billion technology operation is needed so individuals who overstay their visits don't go unnoticed, lawmakers have said ever since the Sept. 11 plane hijackings.
Homeland Security deployed mandatory technologies for matching the fingerprints of entrants against FBI records and watchlists in 2004. Now, there is a plan for rolling out "biometric exit systems" at airports in 2018, so authorities can keep a closer eye on who has and has not left the country. 
A new market research survey contains the aims and objectives of the desired biometric-matching services.
"The goal of a biometric exit program is to ensure that a traveler could not depart as an impostor," by, for example, using someone else's ID when departing or have someone else stand in for the traveler with false documents, DHS officials say in the pre-contracting document. "Biometrics offer a greater degree of assurance that the individual departing the United States is who he or she claims to be."
That said, even fingerprints, faces and irises can be faked. The emerging tech wing of the Office of the Director of National Intelligence in March launched a 4-year project to develop instruments that should automatically detect spoofed biometrics. The first call for proposals under the "ODIN" anti-biometric-spoofing program came out June 15. 
As technologies mature over time, DHS expects to expand biometric scans at airport departure areas to other exit spots, including land borders and seaports. 
Over the past year, DHS Customs and Border Protection has conducted "targeted biometric experiments" on foreigners departing from several locations, the new notice states. CBP still needs to learn how to fit collection points into the transportation system, Homeland Security officials acknowledge. 
"The United States did not build its land border, aviation and immigration infrastructure with exit processing in mind," DHS officials said in written congressional testimony last week.
In one trial, at Atlanta Hartsfield-Jackson International Airport, the agency tested workstations that took a photo of an individual departing the United States to ensure the person was who he or she claimed to be before boarding an aircraft. 
At the nation's top airports, DHS also has tried mobile fingerprint scanners to identify foreigners exiting the country. 
In addition, Homeland Security has experimented with capturing images of an individual's iris, or colored portion of the eye, at the Otay Mesa, California, outdoor border crossing.
The results of these tests will be shared with contractors when CBP issues a request for technology proposals. 
The new biometric exit project would be limited to deployment of the system's front-end, with DHS overseeing backend operations.
Contractors would have to amass images, in real-time, for matching against Homeland Security's biometric databases.
After the 2001 terrorist attacks, Congress mandated that FBI and DHS biometric hubs interface.
Today, Homeland Security shares certain information with the bureau's massive $1 billion Next Generation Identification database, and vice versa. The FBI has brokered agreements with state and federal partners to search for facial matches using more than 380 million photos, according to a Government Accountability Office audit released last week that found NGI lacks privacy and precision controls. 
The DHS biometric tech providers would be required to accurately match a person's arrival and departure records, according to the department's goals. 
Minimizing disruption to airport operations is key. Vendors would have to weave biometric scans into existing exit procedures and communicate what's new to passengers and travel authorities. 
There also will be performance metrics to, among other things, measure the threats flagged by biometric exit checkpoints.
Another aim of the new tools is to aid CBP's crackdown on lawbreakers. Authorities should, the thinking goes, be able to more quickly apprehend terrorists or other criminals when the department can instantly share biographical information like names and birth dates -- plus biometric data.
Late last year, Congress provisioned $1 billion for a biometric entry-exit system by increasing fees collected from individuals who apply for visas. Checking the fingerprints of all visitors leaving the United States could cost $7.2 billion, The Los Angeles Times has reported in the past.  
Officials state the new plan actually should control expenses. The market research survey says the biometric exit activities would recycle existing government resources, plus reduce operations, maintenance and personnel costs. 
About 483,000 foreigners overstayed their visits last year, Homeland Security officials told House lawmakers June 14. DHS authorities made less than 2,000 arrests, several department officials testified.
The request for information is part of an ongoing process to stay abreast of the biometrics marketplace. 
Industry is asked a series of questions that include, "How can industry help to standardize and leverage technology/software solutions for use across all airport, seaport and land border POE environments to minimize incompatibilities across systems, reduce development time/cost and maximize interoperability with future systems?"
All responses are due July 1.