The Military's SAT Could Soon Test for Cybersecurity Smarts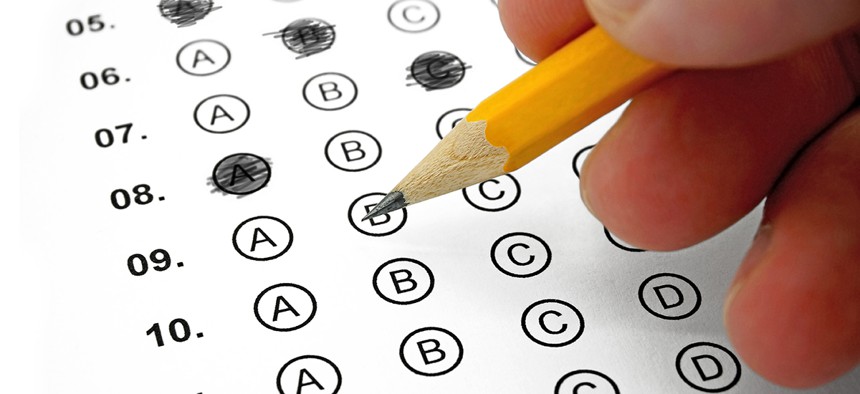 Like prospective undergraduates, aspiring troops take a standardized entrance examination that gauges verbal and math skills, among other cognitive abilities. But unlike the SAT, the Armed Services Vocational Aptitude Battery might soon assess Navy applicants' cybersecurity aptitude.
Exactly what dexterities the cyber section would test remains an open question.
"A high score would presumably identify those who have prior experience or engagement in cyber types of hobbies or activities and are thus highly motivated and prepared to do well in cyber training," Navy spokeswoman Lt. Jackie Pau said.
Right now, "there's not really a good way to tell if people have a particular aptitude towards cyber, based on the questions that are in the current test," she said. It's clearer that mathematically-minded people, for instance, might flourish working in an aircraft carrier or a submarine, or as a cryptologist, she added. 
The exam is continually reviewed and new items are developed, Pau said. Existing sections in the Armed Serviceswide battery gauge verbal, math and mechanics skills, among several other capabilities. The Navy uses an additional test to measure coding speed. 
"The proposed cyber test was developed to measure critical knowledge absent from the ASVAB," Pau said. Today, composite scores on questions in the verbal, math and science sections are used to select the best candidates for information security jobs, Pau said. 
Most military recruits take the multiple-choice test for career placement. It also is offered to high school students when they are in the 10th-12th grades.
The Navy -- along with the other military branches, civilian agencies and private sector organizations -- has struggled to steer natural talent into the information security field. 
In the United States, no high school teachers or guidance counselors even mentioned the idea of a career in cybersecurity to 64 percent of millennials, according to a Raytheon-National Cyber Security Alliance survey of adults aged 18 to 26 released Monday. 
U.S. Cyber Command is in the middle of staffing 6,200 cybersecurity job openings across the Defense Department, according to the Pentagon.
Current and former Navy officials have broached several out-of-the-(check)box ideas for nurturing cyber smarts. 
"We need to start with ninth-graders… to hook them into this," Vice Adm. Jan Tighe, head of U.S. Fleet Cyber Command, said at the Billington Cybersecurity Summit on Sept. 17. "If they don't start at that point, it's hard to catch up in terms of having the math skills to go into engineering type programs." 
Richard Danzig, a former Navy secretary, has said cyberwarriors should be plumbed from contests that require hands-on proof of programming finesse.
"Why recruit for cyber on the basis of college degrees and the like when in fact what really care about are skills that don't really correlate with that?" he said at a July 2014 Center for a New American Security event tied to the release of a report on the cyberthreat. "One useful idea would be to use cyber competitions -- as the method of recruitment." 
Contractors praised the Navy for looking at the types of cognitive thinking that might indicate a sailor's potential for success in cybersecurity.
"The Navy should be applauded for thinking through what knowledge, skills and abilities they should be looking for to help recruit cyber warriors," said David Wennergren, a senior vice president at the Professional Services Council, a trade group.
"The challenge, of course, is that the continually evolving nature of cybersecurity threats requires a broad set of skills and aptitudes be deployed to protect and defend our people, information and information systems," added Wennergren, a former Navy chief information officer.
(Image via SIAATH/Shutterstock.com)