Physical security tech goes nuclear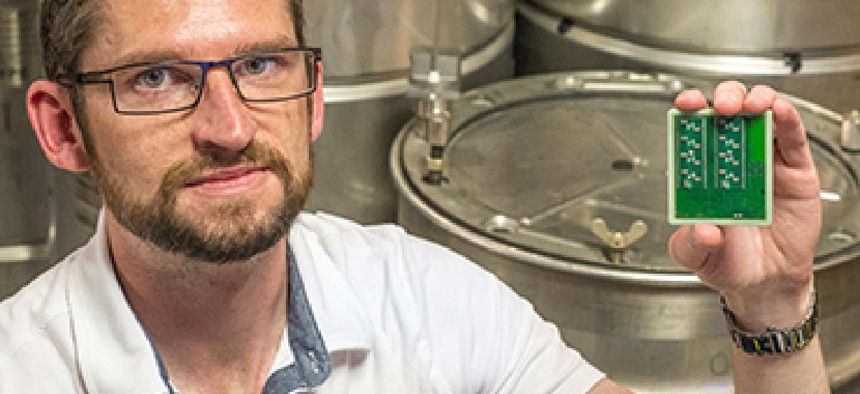 Sandia Labs' SecuritySeal device for locking down nuclear materials can also secure more everyday items.
Jason Hamlet was on the Sandia National Laboratories team that developed SecuritySeal, a device that attaches to a container and detects tampering. (Randy Montoya / Sandia National Labs)
Sandia National Laboratory is looking to commercialize technology that leverages cybersecurity cryptographic techniques to protect physical objects from tampering.
The lab's SecuritySeal device for locking down nuclear materials used in keeping international nuclear weapons treaty inspections honest can also secure more everyday items like cargo containers, pharmaceuticals, criminal evidence containers and ballot boxes, or even safeguard consumer goods against warranty fraud.
SecuritySeal attaches to a container and detects tampering. The technology is based on physical unclonable functions, or PUFs. Sandia has a long history of research into tamper detection and continues to advance the field, providing technologies to the International Atomic Energy Agency and others. The lab said its prototype is a little bigger than a credit card and would fit on a truck or cargo container, but it can also be larger or small enough to fit a prescription medication bottle.
The device, said Sandia scientists, has been developed and used to ensure nuclear weapons systems dismantled and crated under nonproliferation treaties aren't meddled with.
The PUF technology in the device uses the small unique defects in tolerances and electrical characteristics that are part of any manufacturing process, including those in the making of microelectronics, to provide an electronic fingerprint for each device's seal. Resistance properties change if someone tries to lift, slide or remove the SecuritySeal's film from the surface to which it is adheres, and the PUF response is altered so the tamper is detected, according to Sandia.
Additionally, a digital reader checks the device remotely and can deduce a change in signature if the tag-seal fails to properly respond. Knowledge of the private key is needed to generate the right response. If the PUF changes, the private key changes and the tag-seal can't provide the correct response, according to the lab.