Johnson, Carper move to authorize DHS Einstein program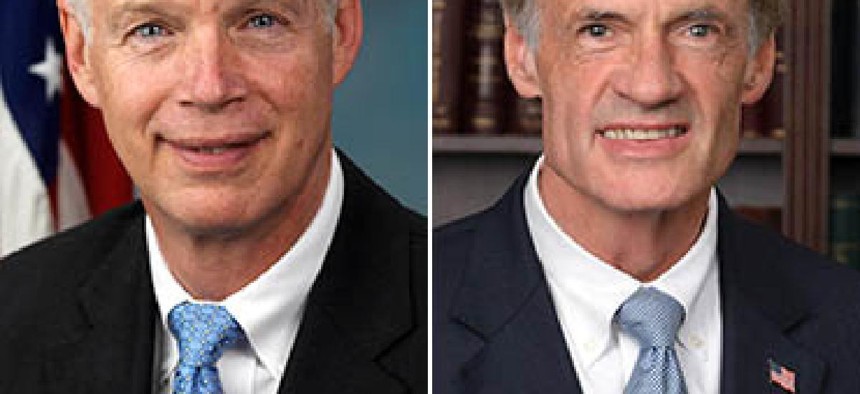 The Einstein authorization measure by Sens. Ron Johnson, left, and Tom Carper will be considered next week.
The network cyber protection program Einstein covers almost all of the federal government to varying degrees. But the Department of Homeland Security wants to make Einstein coverage ubiquitous, and wants statutory backing to do so. In a July 8 speech, DHS Secretary Jeh Johnson called on Congress to act to expressly authorize the program.
The leaders of the Senate Homeland Security and Governmental Affairs Committee are looking to do just that, with a bill to codify the Einstein program that is set to drop next week. Sens. Ron Johnson (R-Wis.) and  Tom Carper (D-Del.) are collaborating on a bill that will be brought up in a business meeting scheduled for July 29.
The bill would mandate that Einstein coverage extend across all civilian government agencies, and incorporates strong privacy protections, per a Carper aide speaking on background. The legislation builds on the Federal Information Security Modernization Act signed into law in late 2014.
The Einstein bill comes as a bipartisan group of senators led by Susan Collins (R-Me.) and Mark Warner (D-Va.) announced they would introduce a bill to expand DHS powers over federal networks. That bill would provide for the Einstein program, but also authorize DHS to shut down federal civilian networks and databases that are under attack or are at risk. The authority is analogous to that which the NSA wields over networks in the dot-mil domain and in the intelligence community.
Carper and Johnson were absent from the sponsor list of the Collins-Warner bill.
"I'm glad to see my colleagues engaged on such an important issue," Carper said in an emailed statement. "I look forward to reviewing the bill and working with all the sponsors on improving security of our federal networks, including overseeing the implementation of my FISMA legislation that became law in December."
The House passed a cybersecurity bill that includes Einstein authorization in April 2015.