Here's What OPM Told Congress the Last Time Hackers Breached its Networks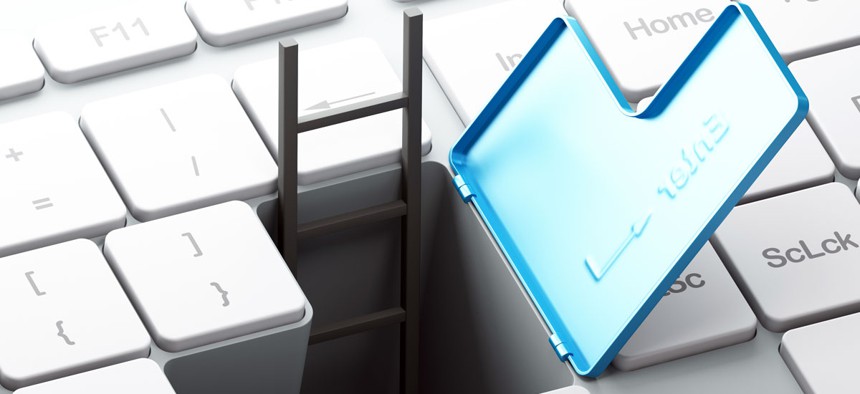 A day after representatives from a cybersecurity firm who happened to be giving a sales pitch say they detected months-old malware on the Office of Personnel Management's networks, the agency's chief information officer, Donna Seymour, testified before Congress that OPM's leadership and cyber defenses were effective at quickly resolving threats.
The newly discovered network threat, which Seymour did not mention to lawmakers, ultimately exposed sensitive data on 4.2 million federal workers and background-check forms detailing employees with access to classified information. Revelations surfaced Friday about the compromise of the background check database that holds data of value to adversaries aiming to extract secrets from U.S. national security workers.
Seymour spoke at an April 22 House Oversight and Government Reform Committee panel about a separate, March 2014 attack that, she said, OPM successfully thwarted. She is scheduled to appear before the same committee Tuesday to discuss the extent of the recent attack and OPM's compliance with federal security controls. 
OPM officials have said they first learned about the latest breach in April. CyTech, a Virginia-based firm, says on April 21, sales reps were invited to demonstrate a tool called CyFIR for the agency.
"Using our endpoint vulnerability assessment methodology, CyFIR quickly identified a set of unknown processes running," CyTech CEO Ben Cotton said in a statement Monday. "This information was immediately provided to the OPM security staff and was ultimately revealed to be malware."
The company says it does not know if OPM was already aware of this suspicious activity.
CyTech stayed on site that day to help "with the breach response, provided immediate assistance and performed incident response services supporting OPM until May 1," Cotton said. 
Agency officials on Monday denied that CyTech was responsible for eyeing the network breach during a product test.
"OPM's cybersecurity team made this discovery in April 2015," agency spokesman Samuel Schumach said in a statement on Monday.  "If not for  the fact that OPM was already in the process of updating and strengthening our IT infrastructure, we would have not known about the intrusion, and would have not been able to mitigate any damage."
OPM did not say when in April the agency identified the compromise and did not comment on Seymour's April 22 testimony.
The intrusion reportedly began more than a year ago and, according to some reports, might have been related to last year's incident. Both attacks have been tied to Chinese-sponsored cyber spies. 
It was partly a technical fluke that helped prevent the 2014 attempted compromise of investigations on employees who are cleared to access classified secrets, Seymour testified in April.
"Most of the government's data is in a mainframe," she said at the House hearing. "The adversaries in today's environment are typically used to more modern technologies and so in this case, potentially our antiquated technologies may have helped us a little bit."
There Were  'Mitigations In Place to Better Protect the Information'
Seymour also attributed the 2014 success to the "culture and leadership" of OPM.
"One of the things that we were able to do immediately at OPM was to recognize the problem" and to partner with other agencies such as the Department of Homeland Security "to be able to put mitigations in place to better protect the information," she said.
OPM did not partner with its largest private sector partner, at the time, according to USIS, the agency's primary private background check investigator. USIS says it was not informed of the March 2014 attack. The firm ultimately fell victim to a similar attack around the same time. 
"OPM has never shared with USIS any specific information or forensic intelligence regarding the nature or specifics of the attack that OPM suffered," USIS attorneys wrote in a December 2014 letter to House lawmakers obtained by Nextgov. "It was simply impossible for USIS to learn from the OPM attack and 'be better prepared' to anticipate and detect the attack on USIS' systems."
The now-bankrupt company, which already was the subject of a $1 billion federal lawsuit for filing incomplete work, claimed no government agency ever alerted USIS to the possibility of a targeted attack on systems supporting background checks.  
Separately, KeyPoint Government Solutions, another major background checker, was later hacked in September of that year. More than 48,000 DHS employees might have had their personal information exposed during that incident.
Homeland Security has been helping agencies, including OPM, outfit networks with intrusion detection tools. 
The $3 billion "EINSTEIN 3" hacker-blocking system, however, was unable to spot the activity responsible for the newly uncovered compromise of highly sensitive data. And a $6 billion "continuous diagnostics and mitigation" program intended to help agencies prioritize potential threats also missed the massive data leak.
On Friday, the White House instituted a "30-day Cybersecurity Sprint" that, among other things, requires agencies to immediately scan systems and check logs for symptoms of threats DHS will detail. Agencies also were directed to fix already-known critical vulnerabilities without delay; cut down the number of computer users with high-level access to systems; and speed the activation of multistep ID verification of people logging into agency networks.
Seymour, OPM Director Katherine Archuleta, as well as officials from the White House, DHS and the Interior Department have been invited to testify at the House hearing. The hacked OPM federal personnel files were housed in an Interior Department data center.
(Image via Maksim Kabakou/ Shutterstock.com)