Heated House Hearing Offers New Clues Into How Hackers Broke Into OPM Networks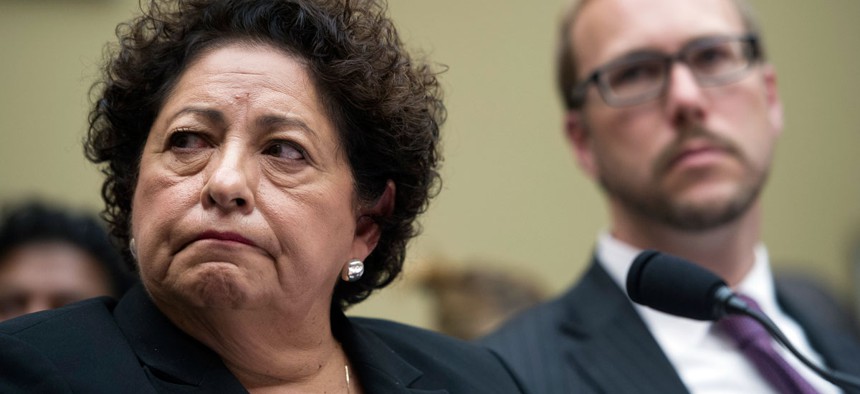 Attackers made far greater headway into federal personnel systems than was first disclosed by the government, gaining a foothold across an entire multiagency data center and striking a second system holding investigative data on employees with access to U.S. secrets.
These revelations surfaced during a heated House hearing Tuesday attended by Obama administration officials representing the Office of Personnel Management, the White House and the departments of Interior and Homeland Security.
On June 4, officials first said personal information such as Social Security numbers and mailing addresses of 4.2 million former and current government staff had been exposed. That data was housed in an Interior Department "shared services" center, which stores payroll, accounting and contracting information, among other things, for more than government offices.
"Although there is evidence that the adversary had access to the [Interior] data center's overall environment, today the investigation has not discovered evidence that any data other than OPM data was exfiltrated," Interior Chief Information Officer Sylvia Burns said, adding that an investigation is ongoing. A government official with knowledge of the situation told Nextgov "there are boundaries in the data center, both logical and physical."
Hackers Made off with Security Clearance Info 
The other breach identified, which was not made public until last week, affects individuals who have been privy to classified information, undergone a background check and, reportedly, filed a requisite "SF-86" form containing intimate details on their contacts, families and themselves. The number of people affected by the second intrusion, their agency affiliations, and the historical time span of the stolen records remains unclear, officials said.
There is "a high degree of confidence" systems related to background investigations on current, former and prospective federal government employees "may have been exfiltrated," OPM Director Katherine Archuleta said.
She refuted a security vendor's statements yesterday that the company's sales representatives uncovered the hackers April 21 while demonstrating a cyber-forensics tool, and insisted OPM detected the breach on an unspecified April date.
OPM: Data Wasn't Encrypted Because Systems are Too Old
The prevailing theory among agency officials for why the hackers, believed to be affiliated with the Chinese military, were able to plunder their systems is that OPM's technology is archaic.
However, at an April 22 hearing, OPM CIO Donna Seymour said an antiquated mainframe helped foil attackers who tried a similar stunt in 2014 because hackers were unfamiliar with such outdated technology.
Officials also revealed Social Security numbers stored by OPM were not encrypted -- or rendered indecipherable to intruders -- because "it is not feasible to implement on networks that are too old," Archuleta testified Tuesday.
Seymour on Tuesday said OPM's systems date back to the 1980s and are written in the programming language COBOL. The code is the equivalent of hieroglyphics to many skilled developers.
It is possible that masking the information might not have stopped hackers from exfiltrating the data in this particular case, according to Homeland Security. The intruders held the pertinent credentials to unlock content, even encrypted data, said Andy Ozment, DHS assistant secretary for the Office of Cybersecurity and Communications.
"If an adversary has the credentials of a user on the network, then they can access data even if it's encrypted, just as the users on the network have to access data," Ozment said. "And that did occur in this case. So, encryption, in this instance would not have protected this data."
Was a Contractor the Weakest Link?
Multiple sources who were not authorized to comment have indicated the login credentials were obtained through details gleaned during a previous breach of a private background check firm. Over the past year, hackers breached networks at the firm USIS, which conducted most of OPM's employee investigations at the time, and KeyPoint Government Solutions, another background checker, which lost records on 48,000 DHS employees.
Officials said they would address the question of hackers breaking in through one of OPM's contractors during a closed-door, congressional briefing later that day.
After the classified meeting, Rep. Elijah Cummings, D-Md., ranking Democrat of the Oversight and Government Reform Committee, said in a statement, "I now feel more strongly than ever that the oversight committee must hear directly from OPM's two contractors -- KeyPoint and USIS -- either in transcribed interviews or in formal testimony before the committee."
In addition, he wants the committee to hold a classified briefing on "the specific vulnerabilities that contractors pose to our government's cybersecurity" with input from security experts.
At the public hearing, Archuleta said no OPM employees have been removed from their jobs as a result of the hack.
Rather than immediately encrypt data, OPM plans to reduce the number of computer users with access to systems and require multistep login verifications, she said. OPM's fiscal 2016 request for congressional funding asks for an additional $21 million to further enhance the agency's IT infrastructure, through, among other things, deploying stronger firewalls and encrypting databases.