Sony Cancels Release of 'The Interview' Amid Sony Hack Fears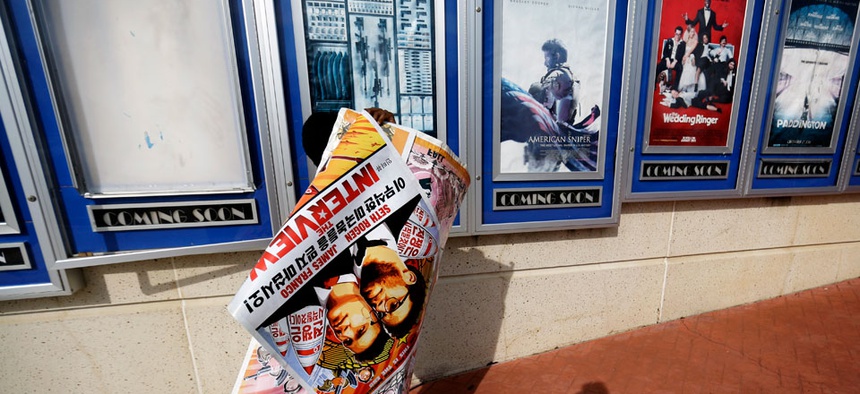 The largest movie-theater chains in the country will not show Sony Pictures' The Interview on its scheduled Christmas Day opening amid threats from hackers warning of 9/11-scale violence if the film's release is not canceled, according to multiple reports.
Regal Entertainment, AMC Entertainment, Cinemark, Carmike Cinemas, and Cineplex Entertainment have opted to not show the comedy—which depicts actors James Franco and Seth Rogen traveling to North Korea on a CIA-backed mission to assassinate the country's dictator, Kim Jong-un—due to the recent threats suggesting moviegoers could face violence for seeing the film.
Several news outlets, including The Wall Street Journal and The Hollywood Reporter, began reporting the news Wednesday afternoon. Carmike had already announced on Tuesday it would pull The Interview.
The dramatic decisions come just a day after those behind an ongoing hack on Sony Pictures warned mass violence may await those who see The Interview on opening day.
"The world will be full of fear," the statement read. "Remember the 11th of September 2001. We recommend you to keep yourself distant from the places at that time. (If your house is nearby, you'd better leave.) Whatever comes in the coming days is called by the greed of Sony Pictures Entertainment."
The threat received considerable attention, prompting a Department of Homeland Security official to say there is "no credible intelligence to indicate an active plot against movie theaters within the United States."
It remains unclear who is behind the Sony hack. Many suspect North Korea's government to be the culprit, though the hermetic nation has officially denied those allegations—but it has called the cyberattack a "righteous deed." The FBI is currently investigating the intrusion, which became public on Nov. 24.
Delaying the release of a movie due to controversy is exceedingly rare, but not without precedent. The 2013 action movie Gangster Squad was bumped four months following the Aurora, Colo., theater shooting during a midnight screening of The Dark Knight Rises, which left 12 dead and wounded 70 others. Gangster Squad, which depicted a unit in the Los Angeles Police Department that hunted mobsters in the 1940s and '50s, included a scene portraying a shooting at a movie theater.
After the Sept. 11, 2001, terrorist attacks, several films were delayed, including action-comedy Bad Company, which featured a criminal plotting to detonate a bomb in Grand Central Station, and Big Trouble, which involved a nuclear bomb aboard an aircraft. Both movies eventually saw a wide release.
Sony, which is distributing the The Interview, told theaters earlier this week that it planned to go ahead with the Dec. 25 release but that it would respect any decision to pull the film.
The hackers, who refer to themselves as the "Guardians of the Peace," included their threat alongside a release of a new batch of documents stolen from Sony Pictures.