California Cops Text Nude Photos Stolen from Smartphones of Women in Custody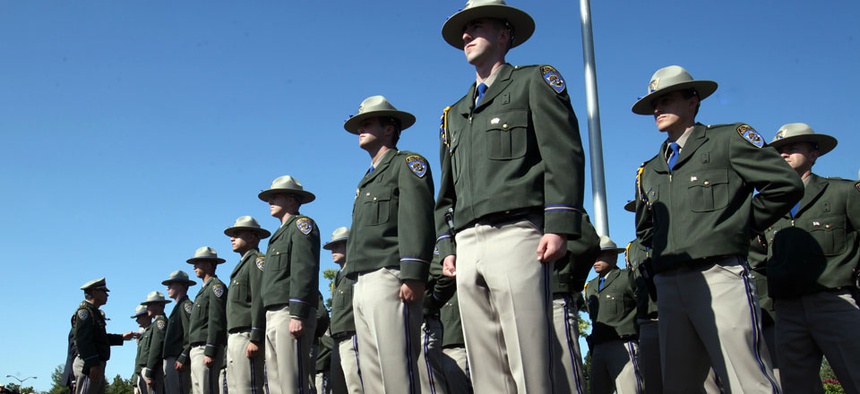 A California Highway Patrol officer and fellow police for years swapped images from smartphones belonging to arrested women, along with crude digital commentary, the Contra Costa Times reports.
At least one female injured in a car accident also had her phone ransacked and ogled.
In an affidavit, Contra Costa district attorney officials wrote that CHP officers Sean Harrington, Robert Hazelwood and others engaged in a "scheme to unlawfully access the cell phone of female arrestees by intentionally gaining access to their cell phone and without their knowledge, stealing and retaining nude or partially clothed photographs of them."
That equates to felony computer theft, the affidavit said.
The investigation began with the Aug. 29 DUI arrest of a 23-year-old woman. She reported photos had been stolen from her phone, after seeing on her iPad the photos had been sent to an unknown number. A record of the messages had been deleted from her iPhone, but the phone had been synced to the iPad.
Forensics evidence indicates Harrington held the woman's phone at the moment the photos were forwarded. The woman -- who registered a blood-alcohol level of 0.29 percent, more than three times the legal limit -- was being processed in a Martinez County Jail when the photos were stolen.
Harrington told investigators he had done the same thing to female arrestees half a dozen times during the past several years. The Contra Costa Times has published excerpts of text messages between officers discussing the explicit suspect photos.
Read the rest at ThreatWatch, Nextgov's regularly updated index of cyber breaches.
And find out even more on "NG Cybersecurity," our iPhone app.