Nation State-sponsored Attackers Hacked Two Airports, Report Says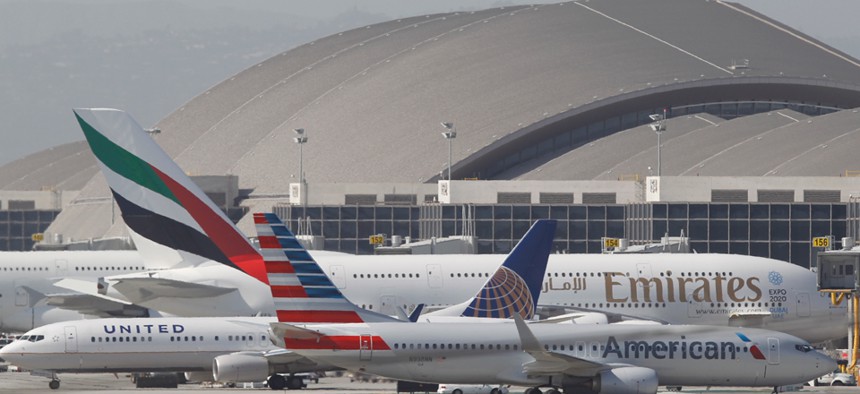 A prolonged operation to spy on aviation systems at 75 U.S. airports was caught by the cooperation of the federal government, a state information-sharing organization and industry, but not before claiming at least two victims, according to a new report. 
The campaign was discovered in 2013. The federal government notified the Center for Internet Security, a nonprofit group that works closely with state and local governments, about a so-called advanced persistent threat targeting four airports, CIS officials said. 
APTs involve attackers, typically nation state-sponsored, who use sophisticated methods to creep around in a network for as long as it takes to get the information they want.
In this case, the offenders sent targeted spear-phishing emails to aviation personnel that contained vulnerabilities difficult to detect and execute, CIS officials said.
The group announced its report Thursday. CIS declined to comment on the suspected nation state. 
"Simply because airports are critical infrastructure is a big sort of attraction for actor groups," Adnan Baykal, CIS vice president of services, told Nextgov. Another motive might have been to identify the cargo or passengers expected to be at the airport, he said.
After learning of the four potential victims, CIS officials obtained their network logs for the previous three weeks to see if their system activity exhibited any commonalities. The feds then informed CIS of eight more affected airports.
The organization used its proprietary monitoring technology to capture and analyze data provided by the affected entities. An alert went out to government and industry partners about similarities identified, including specific network locations, or IP addresses, domain names and email addresses the attackers were using to send malicious emails. 
"We started getting copies of additional emails from our partners that helped us identify even more airports because in the email, the attacker was actually Ccing other airports," Baykal said.
CIS determined the operation likely was orchestrated with the help of a public online document listing email addresses for the targeted airports. So, warnings that contained the hallmarks of the campaign were dispatched to everyone named on the document, along with requests that they search their systems for emails with those hallmarks.  
After sharing findings with the potential victims, federal agencies and an aviation industry group, CIS determined 75 airports had received the infected messages. Most of the airports had not opened the emails, Baykal said.
The airports in which systems were compromised "were not particularly close to each other. That's all I can say," he added. 
CIS officials said all compromised systems have since been disinfected. 
No sector is immune from APTs, the organization stressed. The Justice Department, for example, recently disclosed allegedly Chinese-sponsored cyber-espionage campaigns against U.S. energy and metals companies. 
Justice officials were not immediately able to respond to a request for comment on the airport incidents.