NSA Chief: Protecting Americans From Terrorism 'Like Holding a Hornet's Nest'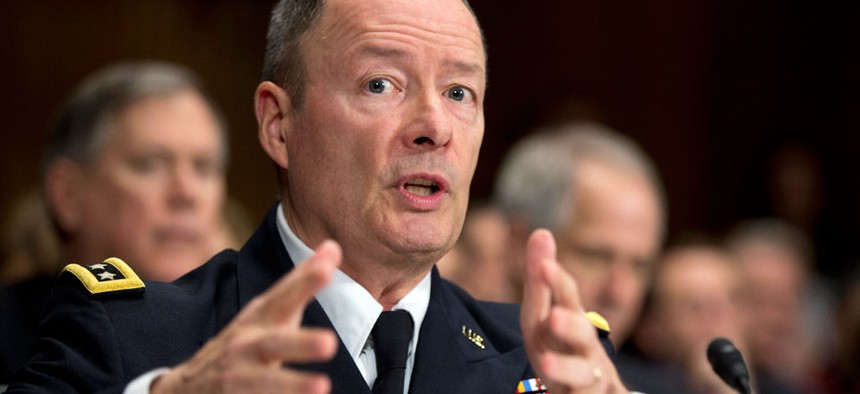 National Security Agency chief Keith Alexander told Congress on Wednesday that he knows no better way to ensure the safety of Americans from terrorism than the agency's controversial domestic surveillance programs, which he conceded have the potential to be "extremely intrusive."
"I agree that what Congress, the courts, and the administration have given us here is extremely intrusive taken in its whole," Alexander told the Senate Judiciary Committee during its third hearing examining government surveillance programs. "But the way we've put the oversight and compliance and the regimen we have around it … ensure that we're doing this right."
Alexander added that "nobody has come up with a better way for us to connect the dots" for defending the country against terrorist plots. Trying to protect Americans without tripping over some privacy issues is "like holding a hornet's nest," he said. "We're getting stung."
Alexander's testimony comes during a week busy with new leaks revealing an even broader surveillance effort than previously disclosed by Edward Snowden. Reports revealed the NSA and British intelligence officials infiltrate the virtual realities of online video games and use Google cookies to pinpoint targets for hacking.
Sen. Chuck Grassley, R-Iowa, attempted to get the administration's witnesses to clarify whether reform legislation proposed in Congress—particularly the Freedom Act being sponsored by Judiciary Chairman Patrick Leahy, D-Vt.—would end the NSA's bulk collection of phone-record metadata authorized under Section 215 of the Patriot Act. But officials largely demurred, saying that the bill's impact would mostly depend on how broadly it is interpreted.
"If the USA Freedom Act becomes law, it's going to depend on how the court interprets any number of the provisions that are in it," Deputy Attorney General James Cole responded. "I think it will have an impact on what is currently done under 215, but 215 covers more than just bulk data collection."
Grassley was unsatisfied with Cole's answer. "I would hope that we would have a firm statement from the administration of whether this legislation is harmful or not." He added that "the administration owes (a clear answer) to all of us, both proponents and opponents" of surveillance reform.
Leahy later began an extended conversation with Alexander that questioned the merits of the NSA's surveillance programs, given that it is difficult to demonstrate their benefits. Leahy said he worries about "giving up too much privacy" in the name of national security. But Alexander stood his ground in defense of the programs.
"I don't think anyone at the NSA is wed to a particular program, but we do need to have a way to connect the dots," he said. "And these programs have been effective."
Wednesday's hearing was originally scheduled for last month but was delayed when Republican committee members boycotted a vote on a judicial nominee shortly before the hearing was to begin.
This article appears in the December 12, 2013, edition of NJ Daily.