NSA Chief Asks Techies for Help, Not Backbench Criticism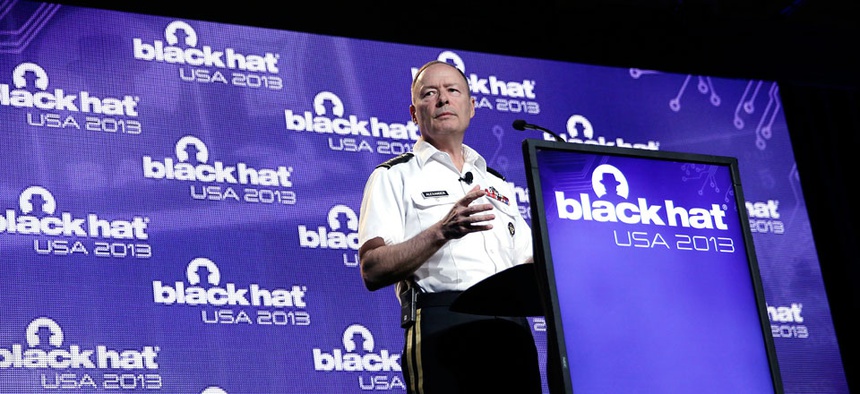 LAS VEGAS -- Gen. Keith Alexander, director of the National Security Agency, tried to repair relations with the tech sector during a keynote speech at the Black Hat cybersecurity conference here on Wednesday after damaging revelations about two broad digital surveillance programs.
Alexander said the programs revealed by leaker Edward Snowden receive intense oversight from Congress and the judiciary and are "100 percent auditable." He urged critics in the tech community to work with the government to improve the programs rather than criticize them from the sidelines.
"The assumption is people are just out there wheeling and dealing and nothing could be further from the truth," Alexander said. "We have tremendous oversight."
Skeptical audience members heckled Alexander several times during the speech, accusing him of lying to Congress about the surveillance programs, saying they didn't trust him and urging him to "read the constitution." He also received a few rounds of applause when he described NSA surveillance information helping to foil terrorist plots.
Alexander said the programs were approved by Congress and the judiciary and that audits had never shown NSA staffers overstepping legal boundaries. He also said it would be counterproductive for the NSA to collect information too broadly.
"You can't afford and don't want to collect everything," he said. "It makes analysis harder."
The Black Hat conference focuses on digital security techniques, mostly in the private sector.
Black Hat General Manger Trey Ford asked Alexander whether NSA's surveillance programs would make it more difficult for U.S. tech companies to sell products abroad because of concerns they'd turn over customer data to the U.S. government. Alexander didn't answer directly but noted that other governments also compel businesses to hand over data for intelligence and law enforcement purposes.
The two known NSA programs include more rigorous oversight than many of those national programs, he said.
"I've heard some people say the [Foreign Intelligence Surveillance] court is a rubber stamp," Alexander said. "I'm on the other end of the table with those federal judges and anybody who's been up against a federal judge knows these are people with tremendous legal experience that don't take -- I'm trying to think of a word here -- from even a four star general."
Alexander agreed to keynote the Black Hat presentation before Snowden's revelations. The NSA director spoke at a long-running Las Vegas hackers conference called DEFCON in 2012, where NSA has recruited in the past. This year, DEFCON organizers have asked federal employees to steer clear of the conference.
Alexander showed a slide during his presentation that he said represented all information NSA analysts can see under the agency's telephone metadata program, which is approved for use against some U.S. citizens. The slide, which looked like a standard spreadsheet, only showed the time and date of a call, the calling and receiving numbers, the duration of the call and the source of the metadata.
Fewer than 300 numbers were approved to be queried in 2012, he said. He said information collected  from the metadata program and from a separate program focused on collecting foreign Internet communications have been responsible for 54 foiled terrorist plots.
"You're the greatest gathering of technical talent anywhere in the world," he said. "The whole reason I came here was to ask you to help us make it better. If you disagree with what we're doing then you should help us twice as much."