House Panel: Chinese telecom firms pose cyber threat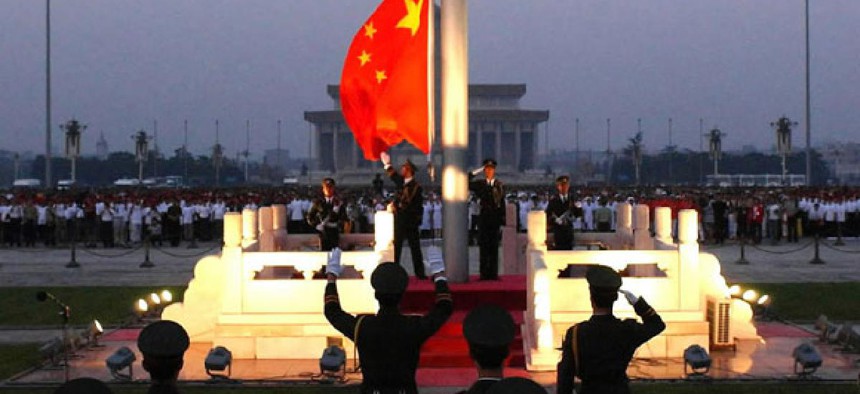 A House of Representatives panel plans to raise warnings this week about the risks of doing business with Chinese telecommunications firms, saying in a report that the companies could pose a cybersecurity threat to American telecommunications networks.
A draft of the report, obtained by National Journal, said that a nearly year-long review of the issue by the House Intelligence Committee was met with a lack of cooperation and "inadequate and unclear" answers from the companies.
"The United States should view with suspicion the continued penetration of the U.S. telecommunications market by Chinese telecommunications companies," the report's authors concluded. A final version of the report was released on Monday.
The unclassified draft version of the report contained few concrete examples of cyber incidents but instead focused on questions that remain unanswered on issues such as the companies' ties to the Chinese government. A classified version contains more evidence, according to the report.
In an interview with National Journal on Thursday, before the contents of the report were made public, Huawei executive William Plummer said his company cooperated to the best of its ability. Much of the information sought by congressional investigators is proprietary or protected by privacy laws, he argued.
ZTE, another subject of the report, acknowledged earlier this year that one of its phones contained a security flaw that could allow others to control the device. Analysts said the vulnerability was deliberate, but at a hearing last month a ZTE executive insisted it was a basic software bug, not an intentional backdoor for hackers. Security researchers have also questioned the security of Huawei devices like Internet routers.
The report recommended that U.S. companies avoid doing business with ZTE or Huawei. "Based on available classified and unclassified information, Huawei and ZTE cannot be trusted to be free of foreign state influence and thus pose a security threat to the United States and to our systems." It also calls for Congress to block any mergers or other acquisitions by the companies in the U.S.
Even if company officials don't work directly with the government, "Chinese intelligence services need only recruit working-level technicians or managers in these companies." Additionally, "it appears that under Chinese law, ZTE and Huawei would be obligated to cooperate with any request by the Chinese government to use their systems or access them for malicious purposes under the guise of state security," the report argued.
Representatives of both companies have insisted that similar measures could be taken against other companies, and they accuse the committee of singling out the two companies because of political feelings toward China.
The report's authors, however, defended their focus on ZTE and Huawei.
"These may not be the only two companies presenting this risk, but they are the two largest Chinese-founded, Chinese-owned telecommunications companies seeking to market critical network equipment to the United States," they wrote.
And the report went beyond cyberthreats. It accused Huawei employees of violating immigration, copyright, bribery and corruption laws, and engaging in discriminating against non-Chinese employees.
Plummer, for his part, said the investigation is politically motivated. "It's politically driven, I get that," he said. "But Huawei is Huawei. Huawei isn't China. Any suggestion otherwise is really unfortunate," he said on Thursday.
Both Huawei and ZTE are hoping that public relations campaigns will help overcome what their executives say are "myth and innuendo" they see as coming from the committee. Huawei has run ads in Politico's Playbook, for example, and ZTE has brought on the PR firm of Ogilvy.
But the committee's report explicitly rejected the companies' main policy suggestion: to have third-party auditors ensure the security of all devices and software sold in the U.S.
"It is highly unlikely that a security evaluation partnership such as that proposed by Huawei or ZTE, independent of its competence and motives, will be able to identify all relevant flaws in products the size and complexity of core network infrastructure devices," the report concluded.