Clinton, Chinese officials eye cooperation to strengthen cybersecurity, prevent IP theft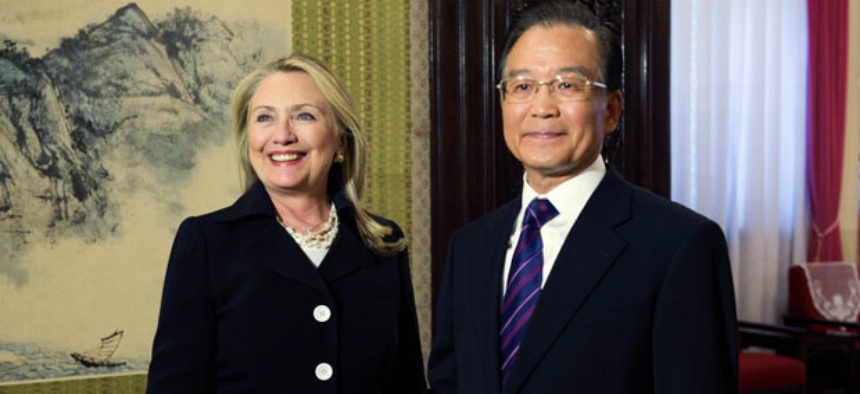 Secretary of State Hillary Clinton and Chinese Foreign Minister Yang Jiechi expressed interest on Wednesday in working together on issues like cybersecurity and theft of intellectual property, problems that have complicated the relationship between the two plugged-in countries.
"Both the United States and China are victims of cyberattacks," Clinton said during a visit to Beijing. "Intellectual property, commercial data, national-security information is being targeted."
She said she raised the issue of cyberattacks with Jiechi during discussions with Chinese officials. "This is an issue of increasing concern to the business community and the government of the United States, as well as many other countries, and it is vital that we work together to curb this behavior," she said in remarks to reporters after the talks.
Hackers in China are the world's "most active and persistent perpetrators" of economic cyberespionage, according to a report released by U.S. intelligence services last year.
Intelligence officials have been reluctant to officially link such attacks to the Chinese government. But the issue has also drawn attention from top U.S. lawmakers such as House Intelligence Committee Chairman Mike Rogers, R-Mich., who has accused the Chinese government of engaging in "brazen and wide-scale theft" of intellectual property from commercial competitors around the world.
But Jiechi insisted that China welcomes greater international cooperation to reduce cyberthreats.
"Like many countries, China is also a victim of cyberattacks," he said. "We'd like to work with the United States and some others to step up our communication and cooperation with respect to ensuring cybersecurity."