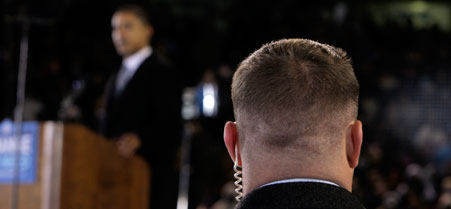 Jae C. Hong/AP
This story has been updated to include a response from the White House.
The investigation into the prostitution scandal involving Secret Service personnel in Cartagena, Colombia, has broadened to include the White House Communications Agency, Nextgov has learned.
Laura Williams, a spokeswoman for the Defense Information Systems Agency, which manages the White House office that provides the president with secure communications, confirmed that one individual from WHCA is under investigation, but could not provide any more details at this time.
A dozen Secret Service agents and 11 military personnel are under investigation in the scandal, which erupted after a night of carousing in Cartagena, Colombia, on April 11. The personnel were members of an advance team preparing for President Obama's arrival at a regional summit April 13. Six Secret Service employees have been fired or resigned thus far in the ongoing probe.
On Friday, Sen. Chuck Grassley, R-Iowa, ranking member of the Senate Judiciary Committee, sent a 1>letter to Mark Sullivan, director of the Secret Service, and Charles Edwards, acting inspector general of the Homeland Security Department, asking if they also were looking into the possibility that staff from the White House Communications Agency and White House Office of Advance may have been involved in the scandal.
WHCA has a staff of approximately 1,000 people drawn from all four services. As a DISA subagency, it comes under operational control of the White House Military Office , which also oversees the Presidential Airlift Group, White House Medical Unit, Camp David, Marine Helicopter Squadron One, Presidential Food Service and the White House Transportation Agency.
Commanded by Army Col. Clinton Bigger , WHCA is headquartered at the Naval Support Facility in the Anacostia section of Washington, and has a 2012 operations budget of $127.9 million and a procurement budget of $53.1 million.
Bernie Skoch, a retired Air Force brigadier general and defense consultant who did a tour at DISA, said, "WHCA staff are held to a higher standard than members in many line units of the military, commensurate with the critical nature of their mission. But like any unit, there are from time to time unfortunate incidents, and dealing with those is the responsibility of the commander."
WHCA staff require a higher level of security clearance than many military members, Skoch said, noting that "people who show tendencies toward the behavior shown in Colombia should be eliminated in screening . . . Anyone involved in an incident like what happened in Colombia would have their security clearance and access to critical missions suspended immediately, pending investigation and adjudication."
White House press secretary Jay Carney declined to discuss the potential involvement of WHCA personnel in the prostitution scandal at a press briefing Monday afternoon, deferring questions to the Defense Department, which is conducting a separate investigation.
Carney fielded numerous and often contentious questions during the 50 minute briefing about the role of the White House advance team in Colombia -- questions Grassley raised in his letter. Carney said the White House counsel conducted an investigation into the activities of the Colombia advance team over the weekend and determined "there was no indication of misconduct" by that team.