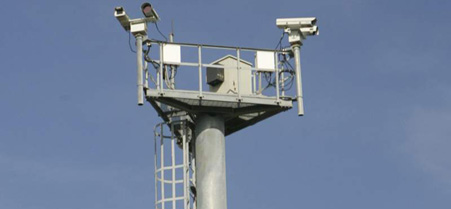 Customs and Border Protection
Customs and Border Protection will modernize surveillance towers remaining from its abandoned Southwest project, known as the Secure Border Initiative network, and populate the rest of the region with lower cost, scaled-down structures, CBP officials told Nextgov .
When first envisioned in 2005, SBInet was intended to spot illegal activity through an interconnected series of towers flanked by radars and cameras. CBP hired Boeing Co. to build the system, which was expected to detect 70 percent of incursions within a given field of coverage. But developing technology around this requirement and other arbitrary stipulations led to delays, cost-overruns and camera performance problems, when existing technologies could not meet those prerequisites, said Mark Borkowski, assistant commissioner for CBP's Office of Technology Innovation and Acquisition.
Now officials are embarking on a pared-down, tailored version of the system while continuing to fund the two sets of towers that ultimately proved functional in Tucson and Ajo.
"We're starting with what is readily available," Borkowski said this week, after CBP released a request for project proposals on April 6. "Industry has got to prove it to us it's readily available." That's a much different approach than telling a contractor on day one to "start designing a system that will meet your needs," he added.
By the end of 2010, the towers in Tucson and Ajo were working, but officials decided some of their features would be superfluous if replicated elsewhere. So, in early 2011, Homeland Security Department Secretary Janet Napolitano, who oversees CBP, ditched the concept of strung-together, one-size-fits-all towers along the border. "We developed requirements for the system that frankly we had trouble defending," Borkowski said.
Outdated acquisition procedures that many DHS officials had cut their teeth on contributed to the misconceived SBInet. "You have to create the requirements because you need to essentially check that box," he said. They began questioning whether the time and cost of fulfilling the criteria would be worthwhile for the rest of the U.S.-Mexico border.
"We've seen they've had a big effect in the area where they were deployed," Borkowski said. "That system there is working. It continues to work. But that system is more than what we need."
In Ajo, Border Patrol agents, within several weeks, apprehended tens of thousands of people who authorities had not even realized were in the vicinity, he said. Now, adding upgrades such as cameras on the market with longer ranges or higher resolution pictures is a relatively inexpensive proposition, Borkowski said. Officials had set aside funding for operations, maintenance and modest enhancements for the remains of SBInet.
Federal auditors and skeptics have likened the new plan to SBInet because both initiatives rely on towers and cameras to withstand fierce environmental conditions. But Borkowski said one of the major differences between the tower sets in SBInet and the new program is the towers will not blanket an entire area of responsibility, inclusive of clutter such as hills and mountains -- but rather only locations where the cameras have clear visibility.
The planned eight and a half year project will begin by erecting a tower series in Nogales and then adding up to five more tower sets in Sonoita, Douglas, Casa Grande, Ajo and Wellton.
Officials conferred with industry for 18 months to refine the job specifications before releasing a solicitation last week. Now they are seeking a system suitable for the rugged terrain that consists of "nondevelopmental" technologies -- a term procurement specialists say signifies military or industrial-grade materials that can be immediately pulled off production lines.
And officials have opted to drop radars from the tower designs. Detecting motion in a town could be nonproductive. "Radar in a highly trafficked area doesn't help," Borkowski said.