Troops exposed to blasts in Afghanistan and Iraq "have an increased risk of developing adverse health outcomes over the long term," including post-traumatic stress disorder, traumatic brain injury, persistent headaches and growth hormone deficiency, according to a report released Thursday.
"Acute physical and psychological health outcomes in people who survive blast explosions can be devastating, but the long-term consequences are less clear, particularly for individuals who show no external signs of injury from exposure to blast waves or may not even be aware that they were exposed," said Stephen Hauser, chairman of department of neurology of the University of California, San Francisco, and chair of the Institute of Medicine committee that wrote the blast report.
Some 2.2 million troops served in Iraq and Afghanistan over the past 13 years, with 21,556 physically wounded by blasts from improvised explosive devices and 244,217 diagnosed with traumatic brain injury, IOM reported.
VA commissioned the IOM report because it was concerned about blast injuries, considered the signature wound of the long wars in Afghanistan and Iraq.  The 192-page report on blast explosure's long-term repercussions is the latest in a series of IOM studies on the health effects of war since 1998, after the first Iraq War.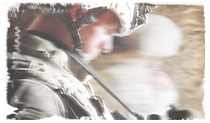 Broken Warriors is an ongoing series on mental health issues in the military.
Blast exposure may result in long-term hearing damage and muscle or bone impairment such as osteoarthritis, IOM found.  "However, the data on these outcomes were not strong enough to draw a direct cause-and-effect relationship," the institute said. There was only tentative evidence to link blast exposure to long-term effects on cardiovascular and pulmonary function, substance-abuse disorders and chronic pain in the absence of a severe, immediate injury, the report said.
While there is substantial overlap between symptoms of mild TBI and PTSD, limited evidence suggests that most of the shared symptoms could be a result of PTSD and not a direct result of TBI alone, the IOM report said.
The report recommended Defense develop and deploy data collection technologies that quantitatively measure components of blast and characteristics of the exposure environment in real-time and also link the with self-reported exposure histories and demographic, medical and operational information.
It also suggested VA create a database that links Defense records for troops with blast injuries to VA health records to "facilitate long term health care needs after blast injury." VA should create a registry of blast exposed-veterans to serve as a foundation for long term studies.
VA also needs to develop clinical practice guidelines for blast related injuries other than PTSD and TBI and needs to encourage its clinicians to ask veterans about blast exposure, IOM recommended.