This story has been updated.
Persistent mental health conditions -- anxiety, depression and sleep disorders -- along with neck, back, and joint pains among Afghanistan and Iraq war veterans may someday "be recognized as signature scars of the long war," that began with the U.S. invasion of Afghanistan in 2001, the Armed Forces Heath Surveillance Center reported today.
The center, which conducts epidemiological and health surveillance studies for the Defense Department, said in the April issue of its Medical Surveillance Monthly Report, that "mental disorders were the only illness/injury category for which hospitalization rates markedly increased." They were 8 percent higher in 2006 than 2002 and more than twice as high in 2012. The center examined health care provided to active duty service members from 2001 through 2012.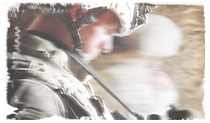 Broken Warriors is an ongoing series on mental health issues in the military.
The long-war study came up with several unanticipated findings. Most notably, that "no major categories of illnesses or injuries accounted for marked increases in rates of hospitalizations or ambulatory visits among U.S. military members until the fifth year (2006) of the war period."
The Center said its findings have important implications, including that "there may be dose-response relationships between the cumulative exposure of a military forces to war fighting and the natures and magnitudes of their health care needs."
The Center said that clinical manifestations, such as mental and musculoskeletal disorders, resulting from continuous exposure to combat, may not appear for several years.
War-related stresses may increase over time: "Prolonged exposures to war fighting may be chronic and resistant to treatment. If so, clinical manifestations of the war may persist among many war veterans long after war fighting ends," the report said.
This means that veterans of the Afghanistan and Iraq wars could require long-term care, the Center said. "To the extent that some adverse health effects of prolonged periods of war fighting may be persistent and resistant to treatment, medical care may be needed by large numbers of war veterans long after war fighting ends."
It concluded, "If so, someday persistence of anxiety, depression, sleep disorders, neck, back, and joint pains, headache, and various ill-defined conditions among Afghanistan/Iraq war veterans may be recognized as signature scars of the long war."
In April 2008, the nonprofit RAND Corp. estimated the cost of dealing with post-combat stress and psychological illnesses of Afghanistan and Iraq veterans at $6.2 billion for just the first two years after troops return home. These costs include direct medical care, lost productivity and suicides.
The long war report backs up a study done by the center last November that showed mental disorders accounted for 63 percent of excess hospitalizations for active duty troops from October 2001 through June 2012 compared to pre-war rates.
The center also reported in its April surveillance report that in 2012, mental disorders topped the list as the cause of hospitalizations for active duty troops -- 16,175, or 26 percent out of a total of 85,901 hospital admissions.
"Adjustment reactions (including post-traumatic stress disorder) and episodic mood disorders were associated with more hospitalizations among active component members than any other specific condition," the report said. "Together, these two conditions accounted for 18 percent and 20 percent of all hospitalizations of males and females (excluding pregnancy/delivery), respectively," it said. Alcohol dependence accounted for 11 percent of hospitalizations in 2012.
Hospitalizations for mental health disorders have jumped by more than 50 percent since 2008. The Center said this sharp increase likely reflects repeated deployments, prolonged exposure to combat stress, improved mental health screening and a heightened awareness by commanders and families about mental health issues.