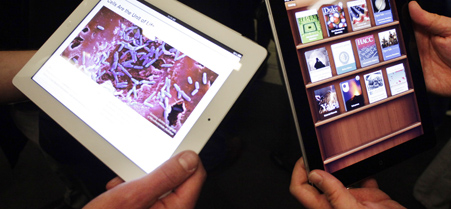 Mark Lennihan/AP
The Air Force Special Operations Command canceled its planned acquisition of Apple iPad tablet computers last week, two days after receiving a query from Nextgov about the inclusion of Russian-developed security and documents reader software specified in procurement documents .
The command did not provide any explanation for the move in its notice on the Federal Business Opportunities website. Officials originally planned to acquire 2,861 iPad2 tablet computers to serve as electronic flight bags , storing digital versions of paper charts and technical manuals. The procurement -- kicked off in January -- specified the use of GoodReader software developed in Russia to meet mission security requirements.
Michael McCarthy, director of the Army's smartphone project, Connecting Soldiers to Digital Applications, based in Fort Bliss, Texas, told Nextgov last week he would not use software developed in Russia because he would not want to expose end users to potential risk.
Bernie Skoch, a defense industry consultant and a retired Air Force brigadier general with extensive security experience and a student pilot, said with mission-critical applications, every line of source code must be examined to ensure it does not contain malicious code. It does not take much imagination "to conjure the catastrophic consequences" that could result from malicious code in an electronic flight bag, he said.
Capt. Kristen Duncan, an AFSOC spokeswoman, said Tuesday the command "continues to explore options to develop the electronic flight bag program. Included in this continual evaluation is the procurement aspect of providing tablets to the field." She added, "We continue to look at each component of the [electronic flight bag] program to ensure we do the right thing for our airmen, don't introduce unnecessary risk into operations and provide the best tools available to conduct the mission."