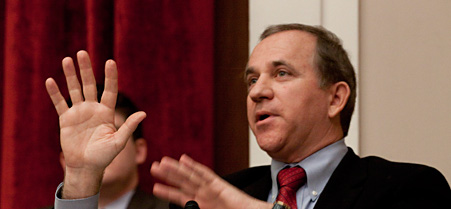 Rep. Buyer said 578 VA contractors have refused to sign clauses requiring them to encrypt data on their computers. Harry Hamburg/AP
This article was updated at 5:03 pm on May 13.
A laptop belonging to a contractor working for the Veterans Affairs Department was stolen earlier this year and the personal data on hundreds of veterans stored on the computer was not encrypted, a violation of a VA information technology policy, said the top-ranking Republican on the House Veterans Affairs Committee.
The VA reported the theft of the laptop from an unidentified contractor to the committee on April 28 and informed members the computer contained personally identifiable information on 644 veterans, including data from some VA medical centers' records, according to a letter Rep. Steve Buyer, R-Ind., sent to VA Secretary Eric Shenseki.
The data was not encrypted, which would have prevented a thief from accessing the information, a requirement Congress and VA issued to all department contractors in 2006 after a laptop containing health data on more than 26 million veterans and their spouses was stolen from a VA employee's home . That laptop later was recovered.
The laptop was stolen from a contractor employee's car on April 22, and she notified local police within 10 minutes, said Roger Baker, chief information officer at VA, in an interview. Although the vendor had certified to VA that it had encrypted laptops that stored department data, Baker confirmed the data on the stolen laptop was unencrypted.
The vendor, who Baker declined to identify because he said it would make it more difficult for contractors to report future data breaches if they knew their name would be made public, reported the theft to VA on April 23. Baker said the notice to Congress was 60 to 90 days quicker than how long it took the Bush administration to report security breaches.
After learning about the unencrypted laptop, Buyer investigated how many VA contractors might not be complying with the encryption requirement and learned that 578 vendors had refused to sign new contract clauses that required them to encrypt veteran data on their computers, an apparent violation of rules.
Buyer told Shinseki that the vendor had 69 contracts in more than half of the department's 21 regional medical networks operated by the Veterans Health Administration, and 25 of those contracts, more than a third, did not have a clause that required data be encrypted.
The breach and the unencrypted data indicate "VA lacks focus on its primary responsibility of protecting veterans' personal information," Buyer wrote to Shinseki.
Baker said the stolen laptop contained medical data such as prescription information and other personal identifying data on veterans. He said those veterans have been notified as required by law.
He also said the laptop contained information on 616 veterans, not 644 as Buyer reported. Most of the veterans had been notified by mail of the breach by May 10. That letter offered to provide them with free credit monitoring for up to a year, he added.
After the 2006 theft, VA awarded a contract to install data encryption software on 300,000 employee computers. Later, the department issued rules that required all sensitive veteran information, including health care data, be encrypted. The rule included sections of the 2006 Veterans Benefits, Health Care and Information Technology Act , which requires VA employees and contractors to adhere to department security policies and procedures.
In addition, VA's national rules of behavior included in a VA handbook issued in September 2007 requires employees and contractors to encrypt data on their laptops, Buyer said. VA also mandated contractors to adhere to its security policies, including encrypting data on laptops, in acquisition regulation 852.273-75 , which the department issued October 2008, Buyer said in his letter.
Despite the rules, a seven-month review of 22,729 VA contracts that Shinseki ordered in February 2009 found that 6,440, or 28 percent, did not include information security clauses as required. Since then VA has updated 5, 665 of the contracts with security clauses, while 197 still had not met the requirement as of November 2009. "Most troubling is the fact that 578 contractors refused to sign and modify the clause without any apparent VA action to enforce its IT security policies," Buyer wrote.
He added that a lack of contract enforcement indicated "there is a preponderance of evidence of a severely dysfunctional and broken procurement process in the Veterans Health Administration."
The Health Information Technology for Economic and Clinical Health Act, passed as part of the 2009 American Recovery and Reinvestment Act , requires individuals to be notified when their medical data is compromised. But VA has yet to inform the veterans whose data was stored on the stolen laptop, Buyer said.
In August 2009 the Health and Human Services Department published an interim data breach rule that requires health care organizations, including the Veterans Health Administration, to promptly notify individuals and the media of any data breach of 500 or more records.
Buyer told Shinseki he has asked VA's general counsel to determine whether the department has an obligation to comply with the data breach notification provisions.
Baker said his first task in responding to the breach will be to find out how many of the 578 contracts are still in force. Then he will assess whether enforcing encryption requirements on the contracts would deprive a veteran of health care in, for example, a small nursing home tat finds it difficult to adhere to security requirements. In that case, Baker said he would opt for continued care over security.
Dr. Deborah Peel, founder of Patient Privacy Rights in Austin, Texas, said she was shocked to discover VA contractors had not encrypted their laptops, as government contractors are often targets of hacker attacks. She also wondered why VA had to direct contractors to use data encryption, when it is logical standard operating procedure, just as it is logical for a bank to store money in a vault.
Veterans, because of their service to the nation, should not have to worry that their medical data is secure, Peel said.
Buyer asked Shinseki for a plan within 30 days to decrease and eventually eliminate the number of unencrypted devices that contractors use. "We would like to express our deepest concern about the continued use of unencrypted devices within the VA's networks, despite the ongoing efforts to stop such use," Buyer said.
The House VA committee has scheduled a hearing for May 19 to discuss the department's information security.