Tired of Long Airport Screenings? TSA Wants Tech to Cut Lines.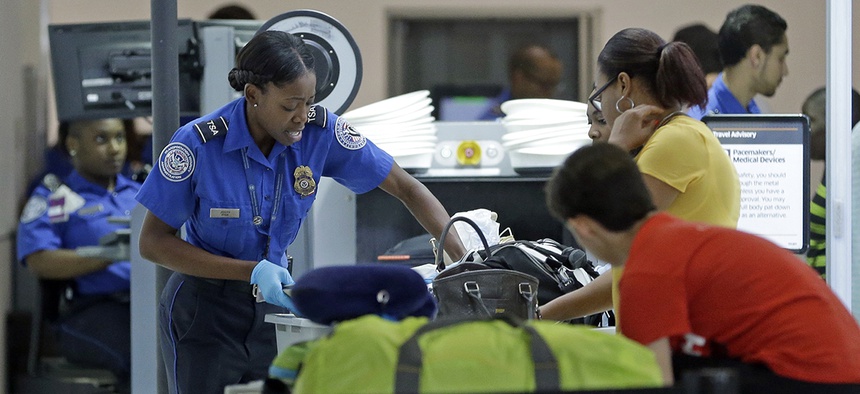 The Transportation Security Administration doesn't like long airport security lines any more than passengers do.
That's why it's looking for ideas about how to improve the screening process. This week, TSA issued a broad agency announcement—a solicitation for research about a particular topic—in search of "Innovative Demonstrations for Enterprise Advancement," or IDEAs.
TSA is specifically interested in mobile applications, "cosmetic and structural changes," such as rearranging the checkpoint or queue layout, new ways to track and monitor passengers, and "risk-based screening," among a handful of other topics.
» Get the best federal technology news and ideas delivered right to your inbox. Sign up here.
The BAA focuses on technology that could improve both screening efficiency and security effectiveness. TSA will collect questions from vendors until July 2, and white papers until July 15.
The House recently passed legislation requiring TSA to inform Congress each time it updates its 5-year strategic plan.
Rep. Kathleen Rice, D-N.Y., introduced the Transparency in Technological Acquisitions Act of 2017, which directs the agency to notify the Senate Committee on Commerce, Science and Transportation and the House Homeland Security Committee within 90 days if any changes are made.
Congress will be especially interested in "an increase or decrease in the dollar amount" for a particular technology "or an increase or decrease in the number of a technology," according to bill language. TSA is also required to share updates about technology still in use past the manufacturer's projections for its end-of-life cycle.
That legislation would help businesses "have the certainty they need to continue developing the technology that we rely on to keep us safe," instead of guessing about whether TSA had changed its priorities, Rice said in a statement.