MGT Act, FAFSA Data Breach on Congress' Agenda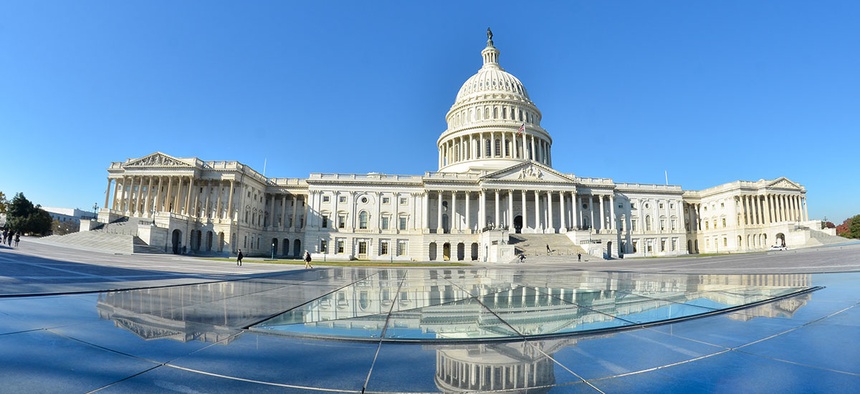 Updating old systems and investigating what's happened with a popular student-aid tool are on Congress' calendar this week.
Congress averted a government shutdown Friday with a short-term spending bill and this week, legislators aim to vote on a bipartisan deal that would fund the government through September.
Lawmakers are also gearing up for another Affordable Care Act fight, but the federal tech community will watch the House Oversight and Government Reform Committee's Tuesday markup of the Modernizing Government Technology Act, aimed at helping agencies replace aging IT systems.
» Get the best federal technology news and ideas delivered right to your inbox. Sign up here.
Rep. Will Hurd, R-Texas, reintroduced the bill Friday with some changes from the last session's, notably that it would allow agencies to use savings from replacing old tech into optional working capital funds for other modernization efforts. Last time, the bill passed the House but that's where the movement ended after the Congressional Budget Office said it would cost $9 billion to implement. This time, Hurd said he consulted with CBO and the Government Accountability Office, and has the support of White House Office of American Innovation officials.
Keeping Open Data Open
A Senate bill aims to keep federal data public and available in a machine-readable format.
Sens. Gary Peters, D-Mich., and Cory Gardner, R-Colo., introduced legislation Thursday directing agencies to maintain constant access to databases and data sets related to taxpayer-funded research.
The Preserving Data in Government Act would require agencies to notify the public before removing those data sets.
Researchers and businesses often use federal information, for instance, a retailer might rely on weather forecasts to plan their shipments, Gardner said in a statement.
"Research data that has been collected using taxpayer dollars should be publically accessible and easily searchable," Peters said.
Lawmakers Want To Skype In For Hearings
A bipartisan group of representatives thinks Congress should hold virtual hearings, potentially via video conferencing, and vote remotely on suspension bills.
Reps. Eric Swalwell, D-Calif., Steve Pearce, R-N.M., and Rick Crawford, R-Ark., reintroduced a bill that would modernize congressional procedures, and also requested the House Administration Committee create rules for conducting legislative business virtually.
The Members Operating to Be Innovative and Link Everyone, or MOBILE, resolution would free up lawmakers to "spend more time in their districts listening to the people they represent," Crawford said in a statement.
"Businesses, organizations and families employ communications technology to stay productive and in touch while physically apart, so the same should be true for Congress," he said.
Cyber, Encryption Bills Coming Soon
House Homeland Security Committee Chairman Michael McCaul is close to reintroducing two major bills that stalled last Congress. One of those bills would elevate the Homeland Security Department's cyber operations division into a full agency rather than nestling it within a broader division that also manages physical security. The other would create a high-level commission to investigate cop-proof encryption systems that allow criminals and terrorists to communicate outside the view of law enforcement. McCaul has said he does not want government to insert a backdoor into consumer communication products.
The chairman introduced legislation Thursday to expand a scholarship program for cybersecurity professionals who agree to take short-term tours in the federal government to include graduates who will teach cybersecurity at the university level.
House Science Considers Small Business Cyber Bill
The House Science Committee will mark up legislation Tuesday expanding the government's cybersecurity standards agency's responsibility for creating cyber resources for small businesses. Similar legislation passed the Senate Commerce Committee earlier this month.
Getting to the Bottom of the FAFSA Vulnerability
The House oversight committee will meet Wednesday to gather information about a digital vulnerability in an Internal Revenue Service tool that allows students to autofill tax information when they apply for federal student aid. The IRS pulled the tool offline in March when the vulnerability was discovered. The agency expects the tool to be back online in fall.
HASC Dems to Trump: Fill National Security Jobs
House Armed Services Committee Democrats wrote to President Donald Trump on Thursday urging him to fill vacant national security positions across the government, especially at the State Department and the Pentagon, including many cyber specialists. "The Trump administration's failure to fill hundreds of positions with qualified officials throughout the Defense and State Departments jeopardizes not only our national security but our leadership in the world," Rep. Seth Moulton, D-Mass., said.
Mohana Ravindranath, Joseph Marks and Heather Kuldell contributed to this report.