Watchdog: U.S. Manufacturing Needs Boost from Commerce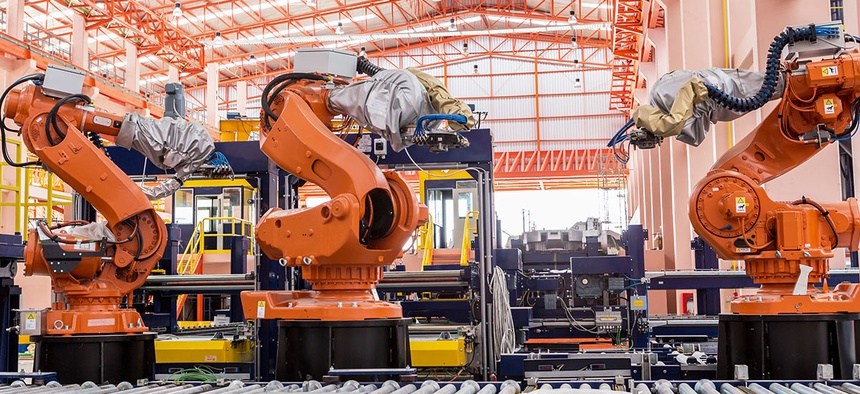 The department isn't contributing enough to manufacturing, a Government Accountability Office audit says.
While President Donald Trump pledges to bring back American manufacturing jobs, a cadre of federal agencies are trying to update the technology seen on the factory floor.
The departments of Defense, Energy and Commerce have signed an agreement to establish 11 institutes researching new methods of manufacturing, known as the Manufacturing USA network. But Commerce isn't doing enough to coordinate other agencies' contributions to that network, a watchdog report says.
The Revitalize American Manufacturing and Innovation Act of 2014 tasks Commerce with overseeing that network of public-private partnerships, which include the Advanced Functional Fabrics of America, focusing on research into new types of textiles, and the National Institute for Innovation in Manufacturing Biopharmaceuticals.
Commerce doesn't have an adequate system for tracking how nonsponsor federal agencies can contribute to that network, which might include educational institutions, manufacturing companies and nonprofits, according to a new Government Accountability Office report. The Labor Department, for instance, has grants that can help grow the number of skilled workers in advanced manufacturing.
"[I]ncluding all relevant agencies" in the governance of those networks, and "fully identifying nonsponsoring agencies' roles and responsibilities" could help Commerce boost progress in manufacturing research, the report suggested.
Other nonsponsor participants include the National Science Foundation, NASA and the Homeland Security Department, but they weren't involved in the delegation of responsibilities for overseeing the network, "despite having missions that contribute to or are affected by advanced manufacturing," according to the report. 
GAO recommended the National Institute of Standards and Technology director work with nonsponsor groups to "revise the Manufacturing USA governance system."
Commerce agreed with the intent of the recommendation, but "requested revisions to the wording" because "NIST has no authority to compel" agencies, including Labor and Education, to participate or to define their responsibilities.