Lawmakers Question Role of NTIA in Re-authorization Hearing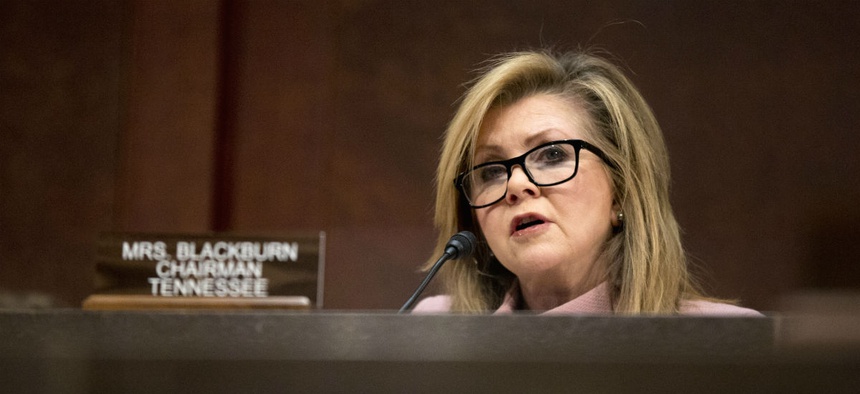 For the first time in decades, legislators probed the role of a Commerce Department agency that advises the president on telecommunications policy.
The National Telecommunications and Information Administration, previously reauthorized in 1992, governs federal spectrum use and other topics, including cybersecurity.
The first step in its re-authorization, said Rep. Marsha Blackburn, R-Tenn., is examining NTIA's "past, present and future in crafting policies that will achieve our shared goals." Blackburn, chair of a House subcommittee on commerce and technology, led a hearing on the agency Thursday during which witnesses described its role as a coordinator between other federal agencies.
» Get the best federal technology news and ideas delivered right to your inbox. Sign up here.
During the hearing, former NTIA Administrator John Kneuer argued the agency's relationship with the Office of Management and Budget should be clarified. Existing law authorizes NTIA to advise OMB on policy related to the management and purchasing of telecommunications technology, but "there's untapped potential in that relationship," he said.
Meredith Baker, former NTIA acting administrator and current president of CTIA, a wireless technology trade association, recommended elevating the NTIA head to the level of undersecretary to "better reflect their role as the president's principal adviser on communications."
To better empower NTIA to influence other agencies' communications actions, Kneuer said, "coordination with OMB is critical. NTIA can use its expertise to gather information from other Departments and agencies."
Undersecretaries can call other undersecretaries to spread policy ideas, he said, but it's much more powerful if the OMB director calls and says, "Look, you've got a new requirement if you want capital to spend on these things. It's a different kind of conversation."
Rep. John Shimkus, R-Ill., asked witnesses whether NTIA's role as a coordinator among other federal agencies inhibited its progress. For instance, NTIA and the National Highway Traffic Safety Administration were working on a joint grant program; in that effort, Shimkus said it appeared each agency could have completed actions separately.
"Does the burden of coordinating with a separate agency outweigh the benefits of the added perspective of the second agency?" he asked.
Baker argued NTIA's role as a convener is one of its most important—the agency works with the Homeland Security Department to outline policy related to public safety communications and with NHTSA on transportation-related networks, for instance.
"The future of these networks is health care ... connected cars … the future of these networks are financial institutions. Communication will cover every part of our lives. This convening role only gets more important for NTIA," she said.
Rep. Bob Latta, R-Ohio, asked if the development of the internet of things—a network of connected devices and sensors—could be harmed if "multiple agencies [assert] jurisdiction. And with that, should there be more coordination?"
Anna Gomez, also a former acting NTIA administrator, noted multiple agencies, including the Health and Human Services Department, the Food and Drug Administration and the Federal Aviation Administration, have stakes in regulating the internet of things.
"We need more coordination to make sure that we are not having one segment be the tail that wags the dog of the entire" internet of things, she said.
Cybersecurity is equally complicated, Baker explained. Asked which agencies should claim jurisdiction over cybersecurity regulations, she suggested a coordinated role between DHS, NTIA and the National Institute of Standards and Technology.
"I think we'd probably prefer DHS to be the lead," but cybersecurity leadership should take place within the presidential administration, she said.