Congress Wraps First Week with Muslim Registry, H1-B Visa and Innovation Fellow Bills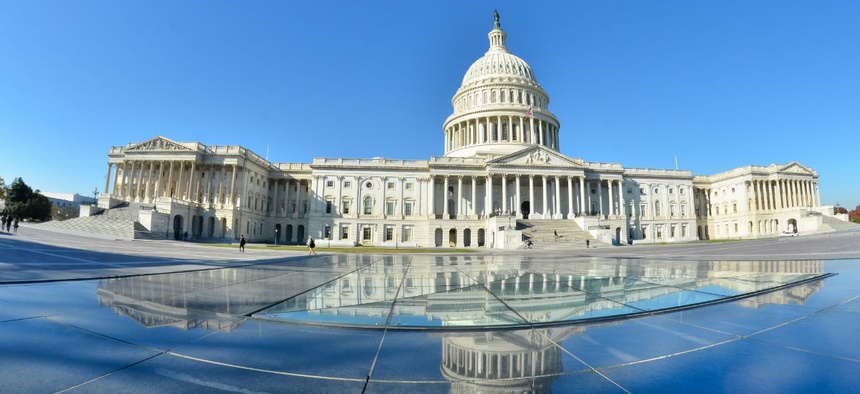 One week into the 115th Congress, and there's already plenty of legislation for the tech community to track.
No Muslim Registry?
A group of Senate Democrats took steps to block President-elect Donald Trump's election promise of a Muslim registry. Sen. Cory Booker, D-N.J., Thursday introduced the Protect American Families from Unnecessary Registration and Deportation Act, to prohibit creating an immigration-related registry program that classifies people based on their religion, race, age, gender, ethnicity, national origin, nationality or citizenship.
President Barack Obama in December ordered the Homeland Security Department to dismantle the National Security Entry-Exit Registration System, an inactive post-9/11 program to track people from a list of predominantly Muslim-majority countries. Many private-sector tech employees from companies like Google, Slack, Twitter and Stripe pledged not to build such a registry.
» Get the best federal technology news and ideas delivered right to your inbox. Sign up here.
"It is contrary to everything we stand for as a country to target individuals simply because of their race, religion, ethnicity, age, or gender," Sen. Patrick Leahy, D-Vt., said in a statement. "The NSEERS program established in the aftermath of the Sept. 11 attacks was a profound mistake."
Proposed H1-B Visa Changes
Rep. Darrell Issa, R-Calif., re-introduced legislation that would modify the nation's H1-B Visa program—the system that allows American businesses, including tech companies like Microsoft, Apple and IBM, to hire foreign talent for high-skilled jobs.
To prevent companies from hiring foreign workers for cheaper wages than those provided to American workers, the bill would raise the salary requirement for H1-B jobs from $60,000 a year to $100,000 a year. It would also get rid of an exemption that allows workers with master's degrees to petition for entry, even if they would exceed the annual quota for H1-B workers.
The bill was introduced to ensure "valuable high-skilled immigration spots are used by companies when the positions cannot be filled by the existing workforce," Issa said in a statement.
Permanent PIF
Rep. Kevin McCarthy, R-Calif., reintroduced legislation that would make permanent the Presidential Innovation Fellows program, which recruits tech talent from outside government for short-term stints.
The Tested Ability to Leverage Exceptional National Talent, or TALENT, Act, tasks the head of the General Services Administration with continuing that program. Fellows serve between 6-month and 2-year terms.
"We live in a time of incredible technological advancements … yet far too many government institutions have failed to keep up, creating a frustrating disconnect between how people live their lives and how government functions," McCarthy wrote in a LinkedIn blog post.
The PIF program has affected "long-term cultural change" in government, and almost a third of fellows take leadership roles in government after their term ends, he noted.
Broadband Boost
Sen. John Thune, R-S.D., reintroduced a bill to encourage federal investments in broadband.
The Making Opportunities for Broadband Investment and Limiting Excessive and Needless Obstacles to Wireless Act, known as the MOBILE NOW Act, is a far-reaching bill with many provisions, including directing the comptroller general to study internet access in low-income neighborhoods.
It would also require the Commerce Department and the Federal Communications Commission make 255 megahertz of spectrum available for mobile and wireless broadband use by 2020.
Coming Soon: Cyber Subcommittee
After a Senate Armed Service Committee hearing on foreign threats, Chairman John McCain, R-Ariz., said Sen. Lindsey Graham will lead a new subcommittee dedicated to cybersecurity and developing a national strategy with the intelligence community. Graham will step down as the personnel subcommittee chairman.
Heather Kuldell and Mohana Ravindranath contributed to this report.