'Reprehensible' Homeland Security IT System 'Pissed Away' $180 Million, Says One Lawmaker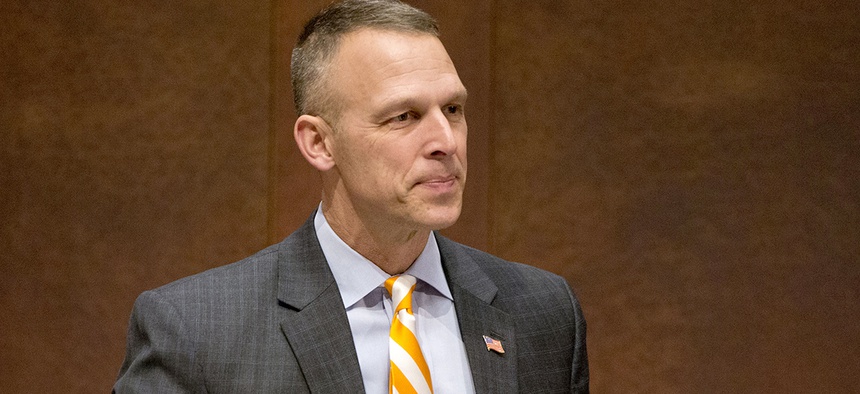 The system's failings could make it more difficult for DHS to remove poor performers, "if that ever happens at all," said Rep. Scott Perry, R-Pa.
The Department of Homeland Security's human resources management system, declared last year one of the highest-risk IT programs in the federal government, is still struggling to meet its goals -- potentially compromising its own security, according to one congressional committee.
A House Homeland Security Committee grilled DHS officials Thursday about the IT project, whose appropriations between 2005 and 2015 totaled $180 million. A new Government Accountability Office report claims that DHS could not provide complete information about spending since 2003.
That report also found that out of 15 features DHS planned to add to its HR system, DHS had fully implemented only one as of last year: a system that would establish a process determining whether to take on a new project. Features with currently unknown completion dates include "data management and sharing," "performance management," "training" and "on-boarding process."
Committee Chairman Rep. Scott Perry, R-Pa., called the HR IT system's failings "reprehensible," which might make it more difficult for DHS to remove poor performers, "if that ever happens at all."
"$180 million pissed away," he added later.
During a question period, Rep. Earl Carter, R-Ga., asked Chip Fulghum, DHS' deputy undersecretary for management, how DHS can "vet effectively and identify individuals that may have links to terrorism when you don't have all the information you need on your employees?"
Fulghum, who assured committee members that DHS has "very good, solid procedures in place to vet employees," admitted during the hearing he agreed with GAO's report.
"Clearly, there's a missed opportunity here," he said. The HR IT implementation schedule was "aggressive" with "not fully baked-out requirements, as well as some poor documentation."
Fulghum maintained that DHS has spent $90 million on the HR IT program since 2009, and $18 million toward the employee Performance and Learning Management System to automate a currently paper-based system. He also said DHS now has a medical case management system for workers compensation, and that the department spent $10 million on an IT system to help make decisions about whether to outsource work.
Rep. Cedric Richmond, D-La., asked why DHS wasn't considering using shared HR services, such as those provided by the National Finance Center, the agency that currently provides DHS and other agencies' payroll processing but also now offers HR IT services.
Richmond said he'd already spoken with the National Finance Center, based in his district in Louisiana, about possibly providing HR services to DHS.
"That is absolutely part of what we're going to look at," Fulghum said. "I absolutely support the use of shared services."