What's Happening With All These Power Outages in Washington?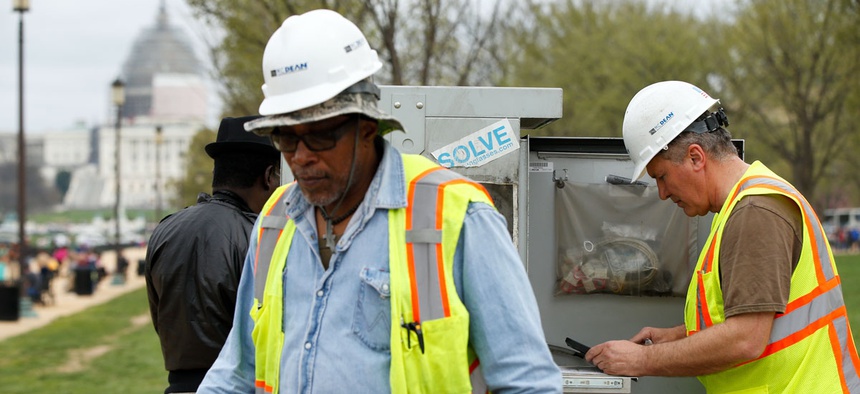 Washington is experiencing a new kind of power struggle right now.
Just in time for cherry-blossom-and-school-trip season, parts of downtown Washington lost electricity Tuesday afternoon, leading to evacuations of prime tourist spots and probably a dip in workplace productivity.
The power outages Tuesday afternoon may be linked to an explosion at the Southern Maryland Electric Cooperative facility, which services areas within four Maryland counties. Pepco, the utility company that provides electric power to customers in Washington, D.C. and surrounding communities in Maryland, is investigating.
As of press time, the Department of Homeland Security had reported more than 8,000 customersaffected by the outage. Officials say they don't suspect "malicious" origins for the outage.
The outages were widespread in the District. A host of government buildings lost power,including the Department of Energy, located in the James V. Forrestal Building near the Mall. The White House delayed its daily press briefing. The State Department trudged forward, taking questions from reporters in the dark. The Capitol building lost power, too. Smithsonian museums, including Air and Space and the National Portrait Gallery, were evacuated. Thirteen Metro stations were operating on backup power, The Washington Post reports. The Watergate, where these reporters are dispatching from, experienced elevator disruptions.
Even Oprah couldn't keep the lights; they went out in the middle of her speech commemorating Maya Angelou's new forever stamp at the Warner Theatre.
The outages coincided with Sen. Rand Paul's presidential campaign launch, leading the people of Twitter to do what they do best:
Major D.C. power outage? I guess @RandPaul was able to defeat the Washington machine faster than we expected.

— jaykenworthy (@jaykenworthy) April 7, 2015
[cracks knuckles] As Sen. Rand Paul took to the stage, millions of miles away in DC the power died. This was a metaphor. [cashes check]

— Simon Maloy (@SimonMaloy) April 7, 2015