Watchdog: Library of Congress Lacks a Digital Blueprint -- And Doesn't Know How Much It Spends on Technology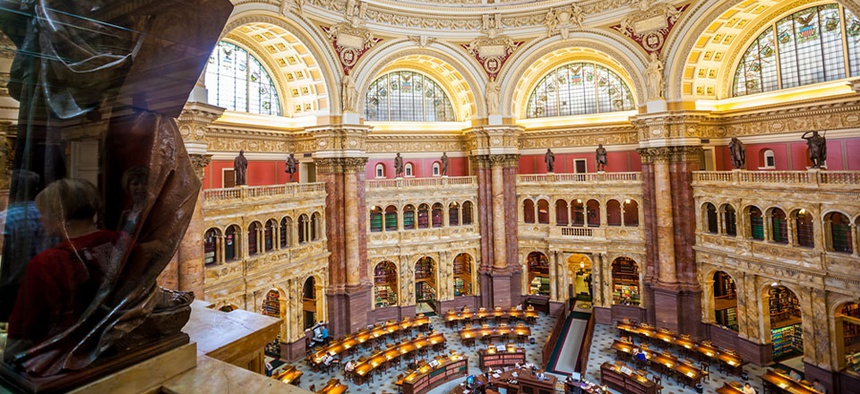 Alongside more than 36 million books and 13.7 million photographs and untold other documents, maps and manuscripts, the Library of Congress has ambitious plans to collect nearly every public tweet since 2006 to be used as a truly 21st-century research archive.
But a new watchdog report calls into question the library's ability to keep up with the demands of the digital age.
The world's largest library lacks "a clear direction for its use of IT," and has been cycling through short-term IT leadership since the permanent chief information officer left the agency in 2012.
That's according to a new Government Accountability Office report, which lays out a litany of technology shortcomings identified by auditors.
"The library does not have a comprehensive process for tracking its IT spending and does not have an accurate inventory of its IT assets," the report stated. "Consequently, the library does not know how much it spends annually on IT or what kinds of equipment it is currently using."
GAO called on the library to "expeditiously" hire a permanent CIO and made some 30 other recommendations for shoring up "serious weaknesses" in the library's handling of IT management.
Overall, the library has obligated a total of at least $119 million on IT, according to GAO estimates. The agency is unable to track IT spending independently, auditors said, and lacks effective plans or processes for managing those investments.
The Twitter archive project, announced in 2010, is one of the major IT projects at the library.
However, it was never reviewed by a special steering committee designed to look over IT projects. It has not been providing regular cost estimates or even established a schedule for completion, auditors said. In January 2013, library officials announced the first phase of the project -- an archive of tweets between 2006 and 2010 -- was nearing completion and a system was in place to capture some half a billion tweets incoming daily. But the archive is not available for use by the public or researchers.
Another example of the apparent disarray in the IT shop cited by GAO in the new report? The library struggled to inventory basic IT equipment. The library's inventory provided to auditors listed 18,000 "active" personal computers. However, officials told auditors there are actually fewer than 6,500 computers in use by agency employees.
The library largely concurred with the report's findings and recommendations, according to a response included in the report from Librarian of Congress James Billington.
IT "is a fundamental resource that is critical to the success of the Library of Congress," he said. "I have taken steps to improve the management of the library's IT so that we may fully realize the possibilities of the digital era."
Billington has served as the head of the library since 1987.
As GAO was drafting its report, Billington told auditors he would hire a permanent CIO and deputy by September, although it's still unclear why the CIO position was left unfilled for so long. The library's chief of staff told GAO the agency plans to draft a new IT strategic plan within 90 days.
As a legislative branch agency, it should be noted, the library is largely exempt from IT-management best practices required of executive branch agencies and codified into law by the recent Federal Information Technology Acquisition Reform Act. GAO pointed out the library has taken tentative steps to better manage IT, but the efforts have not been fully realized.
(Image via f11photo/ Shutterstock.com)