Obama Pushes Manufacturing Innovation for Third Straight Year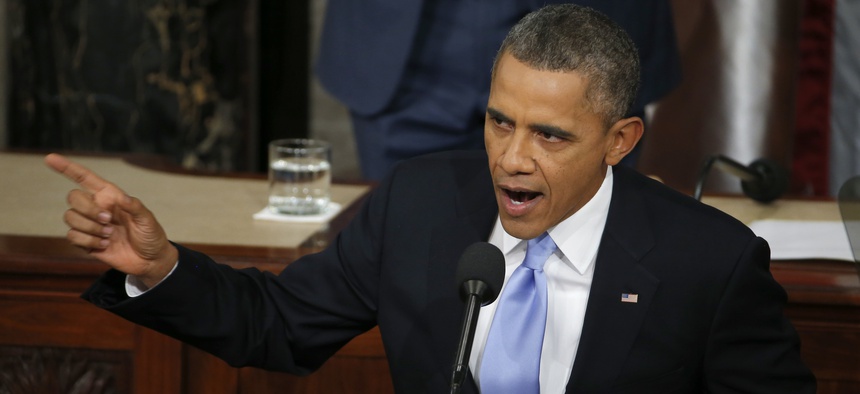 The United States has the chance to "beat other countries in the race for the next wave of high-tech manufacturing jobs," President Obama said in his State of the Union speech Tuesday, describing several new manufacturing innovation institutes and pledging to launch more.
Obama put the case for the institutes starkly and simply: "We know that the nation that goes all-in on innovation today will own the global economy tomorrow. This is an edge America cannot surrender. "
The first new center, the National Additive Manufacturing Innovation Institute, or NAMII, which backs development of 3-D printing, opened in late 2012 in Youngstown, Ohio.  On Jan. 15 Obama announced the opening of the second hub focused on development and manufacture of low power semi-conductors, the Next Generation Power Electronics Innovation Institute in Raleigh, N.C.
A White House fact sheet released with the State of the Union speech said the manufacturing innovation institutes leverage the strengths of a particular region, bringing together companies, universities, community colleges and government to co-invest in world-leading manufacturing technologies and capabilities that U.S.-based manufacturers can apply in production.
In his speech Obama said the institutes in Youngstown and Raleigh have "connected businesses to research universities that can help America lead the world in advanced technologies"
President Obama pushed for manufacturing innovation institutes in his 2012 and 2013 State of the Union speeches and asked for $1 billion in funds from Congress in 2013, which did not come through.  Obama said he will use his "executive authority" this year to spur development of "four new manufacturing innovation institutes… a co-investment by the private sector and federal agencies, led by the departments of Defense and Energy."
"Bipartisan bills in both houses could double the number of these hubs and the jobs they create," Obama said. "So get those bills to my desk and put more Americans back to work."
The White House fact sheet said the "President is continuing to call on Congress to create up to 45 manufacturing innovation institutes over 10 years, tripling that number from the 15 institutes originally proposed in his 2012 and 2013 State of the Union addresses."
Obama did not specify what types of technology he wants the new innovation institutes to focus on or where they would be located.
Mark Muro and Kenan Fikri, respectively a fellow and an analyst at the Brookings Institution, wrote after last year's State of the Union speech that hub-based development of manufacturing "is one very smart and plausible idea that Congress and the nation really should embrace."
They continued: "Basically, the manufacturing hubs idea reflects an emerging consensus among a large number of industry leaders, technology analysts and economic development professionals that regions are the place to work on technology-based development and that regions need to be anchored by hubs of collaborative R&D where industry can work with academia and government to solve tough problems and foment technology gains."
Get the Nextgov iPhone app to keep up with government technology news.