Commentary: Updating the Federal Program That Connects Schools to the Internet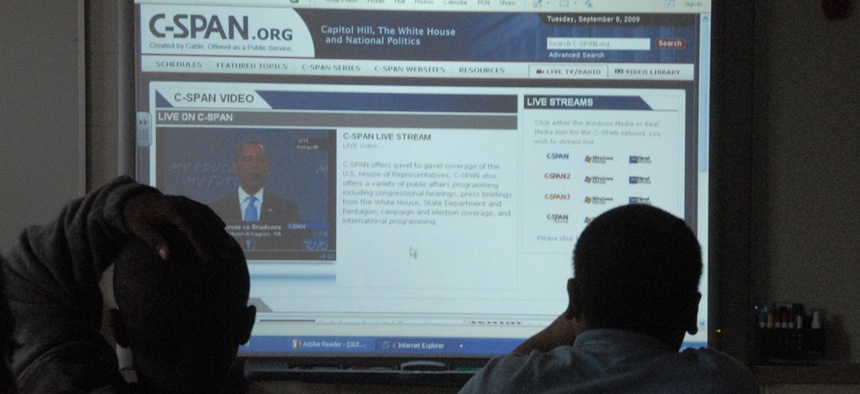 Thanks to the Internet, anyone with a phone can access the collective knowledge of past generations. Still, despite the mobile revolution, many schools have remained buffered from technological advances and far too many lack 21st century teaching tools that enable personalized learning. The 1996 Telecommunication Act tasked the Federal Communications Commission with proliferating Internet connectivity to schools and libraries through a program commonly known as E-Rate. Nearly 18 years later, the agency is beginning to reform the languishing program.
FCC placed E-Rate under the providence of the Universal Service Administrative Company, or USAC, the independent nonprofit responsible for ensuring every American has access to telecommunication technologies. Schools apply for E-Rate subsidies that cover installation, service, and other approved expenses. The size of the subsidy ranges from 20 percent to 90 percent, based on the number of impoverished students and whether the school is located in a rural or urban area. FCC caps E-Rate subsidies at $2.25 billion annually.
E-Rate and policy changes at the state and federal level have enabled near universal Internet access at schools. In 2006, 97 percent of schools were connected to the Internet, and access now is likely within a percent or two of universal coverage.
Some argue E-Rate has achieved its goals, while others say there's still work to be done and call for expansion of the program's mission. Although most schools have Internet connectivity, too few have high speed broadband. A 2010 survey said four out of five schools that participated in E-Rate reported their Internet connections were too slow to meet their needs.
Any reforms to E-Rate should be considered within the broader context of education reform.  Schools have just begun adopting blended learning models that rely heavily on high-speed Internet access. The Common Core State Standards use computer-based assessments that require Internet access.
The following reforms to E-Rate program would help create the digital learning infrastructure necessary for a personalized learning revolution.
Congress should move E-Rate to a bureau within FCC. Transferring control to FCC cuts out unnecessary bureaucratic procedures, such as the voluminous paperwork USAC requires. Currently making simple changes to a form requires approval from several offices within USAC and final approval from FCC. The rapid innovation in the technology sector renders forms useless with every new application or device. FCC control would make E-Rate more responsive to the needs of teachers and students.
USAC has also repeatedly demonstrated an inability to disburse funds to schools. A 2009 Government Accountability Office study found that about a quarter of the estimated $19.5 billion in E-Rate subsidies available between 1998 and 2006 were never spent. This failure was largely a product of the complexity of the application process. The Justice Department and FCC's inspector general have also investigated claims of fraud and abuse. FCC control of E-Rate would help achieve the program's policy goals.
FCC should replace subsidies of antiquated technologies with next-generation teaching tools.  E-Rate has a tiered funding system. Priority 1 technologies eligible for subsidies include pagers, landline phone service, 800 service, and voicemail.  Although mobile hotspot devices are eligible, smartphones and tablets with their own connections are not. FCC should update the list of approved technologies to support current learning platforms.
E-Rate should provide technical support to encourage districts to use free software instead of paying for expensive alternatives. Good open source software solutions currently exist for email hosting, voice-over-Internet protocol and other processes. Furthermore, all of the technologies necessary for Massive Open Online Classrooms, or MOOCs, are available to schools for free.  With a little technical support, schools and teachers could use these new technologies and spend their precious dollars elsewhere.
The National Center for Education Statistics should also collect data on school Internet connectivity and average speeds. NCES has not surveyed schools about Internet connectivity in a few years. FCC should seek out those few schools without Internet access and develop plans to connect them to the Internet. A more proactive approach is necessary to reach universal connectivity.
FCC should also negotiate the price of Internet service on behalf of districts and schools participating in E-Rate. The federal government could use its considerable purchasing power to negotiate lower costs for schools all over the country rather than subsidizing individual connections. Districts not participating in E-Rate could also volunteer to allow the FCC to bargain on their behalf. Currently there are only a few options for high speed Internet, a situation that raises the price for all schools. FCC involvement could foster competition and ensure schools get a fair deal.
Two decades ago policy makers realized the potential of the Internet to improve education systems. Billions of dollars were spent on providing access to technology. Today we see that simply providing access is a necessary but not sufficient condition for revolutionizing how students learn. E-Rate must keep up with the times and continue to subsidize the next generation of teaching tools. Only then will personalized learning technologies realize their potential to improve education systems.
Darrell West is vice president of and senior fellow in Governance Studies at the Brookings Institution. He is also the founding director of the Center for Technology Innovation at Brookings. Josh Bleiberg is center coordinator for the Center for Technology Innovation at Brookings.