Media Blitz Aims to Address Crisis of Confidence in Obamacare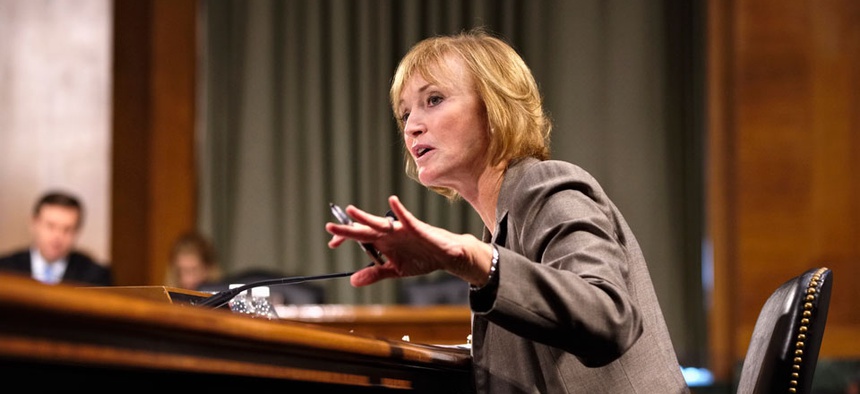 The head of the agency responsible for HealthCare.gov promised a media blitz on Tuesday aimed at luring insurance seekers back to the Obama administration's troubled online health insurance marketplace once it's operating properly.
That media campaign won't begin until December, when the administration expects the site to be fully operational, and will include "TV, radio and some print," said Marilyn Tavenner, administrator of the Centers for Medicare and Medicaid Services.
CMS did not respond immediately to a Nextgov inquiry asking whether the media blitz would also include Web and social media components aimed at younger people without insurance.
The media campaign will be targeted in regions with high levels of uninsured people, Tavenner said. States that built their own health insurance marketplaces will be responsible for their own media campaigns, she said.
Tavenner's statements came in response to concerns from Democrats on the Senate Health, Education, Labor and Pensions Committee about a 'crisis of confidence' in President Obama's health care reform plan, known as Obamacare, because of HealthCare.gov's rocky rollout.
HealthCare.gov was hobbled by software glitches and inadequate server capacity during its first weeks online. The site has improved significantly since its early days but is still preventing many insurance seekers from enrolling in coverage. Officials have said it won't be operating at full capacity until the end of November.
That leaves only two weeks for people to purchase insurance before Dec. 15, the deadline for plans that take effect Jan. 1, the earliest possible Obamacare covereage. Uninsured Americans who do not have other insurance options -- through an employer or their spouse's plan, say -- must purchase plans through the website or through phone or in-person versions of the insurance exchange, by Feb. 15 or pay a penalty equal to 1 percent of their annual incomes.
Senators expressed concern that HealthCare.gov's early problems could poison the public perception of Obamacare and drive uninsured Americans to opt for the penalty instead of purchasing insurance.
If enough young and healthy people choose to forego insurance, that would raise the level of risk in insurance plan pools and drive up premiums for older Americans, possibly to unaffordable levels.
"What I'm worried about is that there's such a crisis of confidence people won't enroll and the very people we need to enroll, particularly our young people, to make this whole system work, that won't happen," Sen. Barbara Mikulski, D-Md., told Tavenner.
"How are we going to get young people back …to make it more attractive, to give them confidence in the system," Mikulski asked.
Even before HealthCare.gov's troubled launch, CMS expected the largest surges in insurance buyers, especially among young people, to come just before key deadlines in mid-December and February, she said. That presumption was partly based on Massachusetts' experience providing universal health insurance in 2006.
More than 13 million people have visited HealthCare.gov since its Oct. 1 launch, Tavennner said, though she declined to say how many of them were able to enroll in insurance plans. Obama administration officials have consistently declined to release those figures until mid-November, which has caused great consternation in Congress. 
The administration's goal was to have 800,000 people enrolled by the end of November, Tavenner said.
Tavenner insisted the site will be running at full speed by the end of November. The administration has no plans to delay the penalty for not purchasing insurance or any other portions of the health care reform law, she said.
Members of Congress have criticized the way HealthCare.gov was built. That includes a decision to limit competition for the main backend of the website to a handful of companies that were deemed qualified for such competitions in 2007, according to a report from Bloomberg. The vendor that won that contract, CGI Federal, has been a main focus of criticism for the site's poor performance.
President Obama on Monday called for a larger reform to the way the government buys information technology based on lessons learned from HealthCare.gov.
Tavenner said on Tuesday she was unaware that Quality Software Services, Inc., or QSSI, the HealthCare.gov contractor picked to lead a "tech surge" to repair the ailing HealthCare.gov had been criticized by a government auditor for failing to adequately secure CMS systems under another contract. 
--
Come to Nextgov Prime in Washington Nov. 20-21 to discuss the biggest challenges and opportunities facing federal IT leaders. Registration is free for federal employees.