Iris Recognition Specs for DHS Employee IDs Are No Longer Hypothetical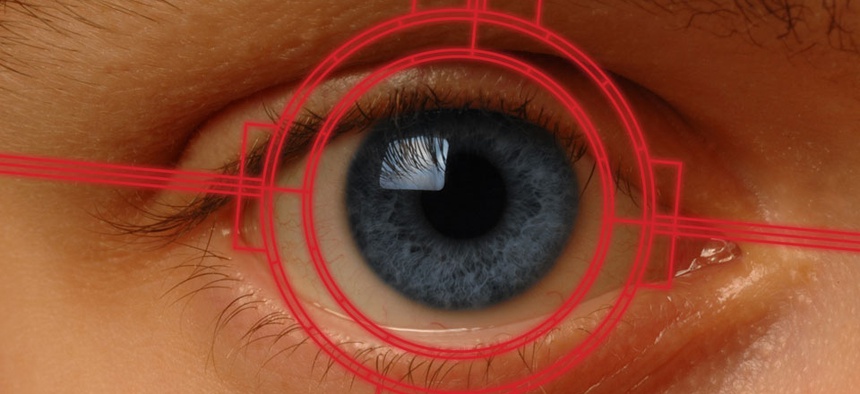 New federal guidelines on iris recognition released late Friday allow the Homeland Security Department to proceed with a $100 million plan for modernizing employee badges with the advanced technology. 
Following the Sept. 11, 2001, terrorist attacks, Congress passed legislation requiring that government personnel swipe smartcard credentials to access all government buildings and networks. In May, Homeland Security began searching for a contractor to replace the department's fingerprint identification system with more cutting-edge technology, such as iris matching capabilities. But there was no consistent way to exchange eye images between cameras and card readers.
That changed on Friday afternoon. 
The National Institute of Standards and Technology finalized guidelines for incorporating irises into government employee IDs, also known as Personal Identity Verification, or PIV, cards.
The DHS credential "is exactly the PIV card" that the new biometric requirements specify, NIST Biometric Testing Project Leader Patrick Grother said in an email. The approach "allows agencies to use it for the federal employees and contractors it covers, so yes DHS could integrate it."
As of July 3, Homeland Security expected to purchase up to $102.8 million worth of services to provide staff with upgraded biometric smartcards during the next decade, according to contracting filings. 
The cards must "support future alternative biometric capabilities and standards, specifically such as facial recognition, iris capture, storage, and matching," DHS officials stated. 
Iris recognition is controversial among some security researchers and privacy advocates. Computer scientists at the University of Notre Dame last year published a study suggesting iris templates -- digitized formatting of eye images -- could fail to identify an employee when used over time. Separately, engineers from Spain demonstrated that identity thieves can hack template databases to duplicate their victims' unique eye patterns. 
The new guidelines do not recommend using templates for iris recognition because they "are proprietary non-standardized mathematical encodings of information" extracted from images. "Templates are not interoperable," meaning not compatible with every reader.
The iris images themselves, however, do not age very quickly and can be exchanged among different systems, according to NIST. Using two data sets with hundreds of thousands of iris images collected from frequent fliers, scientists found no significant deterioration in recognition over nearly a decade. People's irises only need to be rephotographed every dozen or so years, their research concluded. The guidelines state: "Irises would meet the PIV requirement that biometric data should be viable over a 12-year period."
The standards body warned that agencies choosing to store only templates "are vulnerable to supplier lock-in, and an inability to benefit from technology updates."
(Image via Balefire/Shutterstock.com)