Air Force transports electrical repair equipment to New York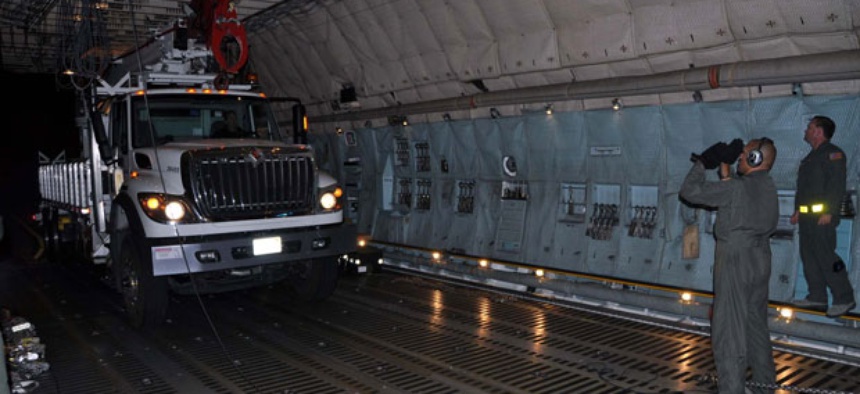 The Air Force conducted a massive airlift Thursday to move electric utility equipment from California to New York for Superstorm Sandy relief efforts, while the Navy dispatched three amphibious ships to New York and New Jersey.
Pentagon press secretary George Little said 12 C-17 and five C-5 airlifters carried 637 tons of supplies and equipment from Southern California Edison, including 10 cherry-picker trucks, eight trouble trucks, one flatbed digger and other support trucks. The transport planes flew to Stewart Air National Guard Base in Newburgh, N.Y., 68 miles north of New York City.
Power restoration stands as the "top priority" for federal assistance to states and cities, Little said Wednesday .
The airlift from California also included 10 civilian power experts and a mobile command-and-control vehicle. Utility crews flew on commercial aircraft, he added.
The Army Corps of Engineers said it has staged 200 generators in the New York and New Jersey and already has delivered 10 high-volume water pumps to New York City and another 25 are en route from New Orleans. The U.S. Northern Command is working to supply another 100 pumps, the Pentagon said.
Little said the Navy is moving USS Wasp , USS San Antonio and USS Carter Hall to the Northeast from their Virginia home ports. FEMA has not requested ships, but the Pentagon considers this a prudent move to ensure the boats will be available if needed, he said.
The National Guard has rescued more than 2,000 people from flooded areas in New Jersey and helped evacuate 700 patients from the flooded Bellevue Hospital in New York City, Little said.
Defense released a video on the airlift preparations this week: