It's a bird, it's a plane . . . No, it's a radio relay balloon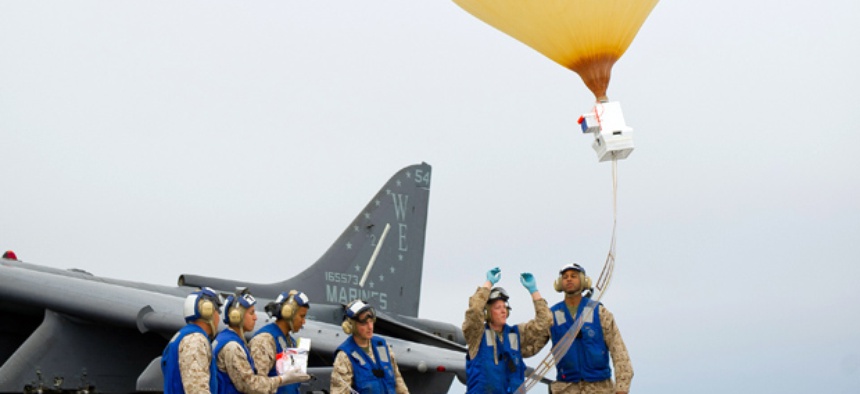 It's a truism of radio communications that the higher the antenna, the longer the range, and Space Data Corp. has developed a radio repeater system that uses one of the highest antennas in the world -- weather balloons operating at an altitude of 65,000 feet.
Jerry Knoblach, chief executive officer and founder of Space Data, based in Chandler, Ariz., said the company's high-altitude radio relay systems can boost the range of line-of-sight military radios from five or 10 miles to between 400 to 600 miles at a cost well below similar systems carried aloft by remotely piloted aircraft.
The 26th Marine Expeditionary Unit used the company's balloon-based system to relay radio signals from the USS Kearsarge to Harrier aircraft flying strike missions over Libya in March 2011. The same unit also relied on the company's balloons in Helmland Province in Afghanistan a month earlier, Knoblach said.
The Marine Air Station in Yuma, Ariz., also uses the Space Data system to provide coverage for aircraft operating in the Army's Yuma Proving Ground and the adjacent Barry M. Goldwater Air Force Range, which together sprawl across 4,300 square miles of southwest Arizona that lack a robust terrestrial communications infrastructure.
On Tuesday, the Naval Air Systems Command said it planned to acquire 14 additional communications packages and nine balloons from Space Data to "extend the range of standard warfighter radios by providing near space communication relays for voice and data." Knoblach said these systems will be used to support operations in southwest Arizona managed by the Marine Aviation Weapons and Tactics Squadron.
The Federal Communications Commission is eyeing Space Data to provide emergency communications in the wake of a disaster, such as Hurricane Katrina in 2005, which destroyed cellphone towers throughout much of Louisiana and Mississippi, Knoblach said, and the company has conducted tests with the Homeland Security Department.
Space Data was launched in 2001 and its primary business today is relaying telemetry data from more than 300,000 wells in remote Texas and Oklahoma, an area larger than either Afghanistan or Iraq.
The company has logged more than 250,000 flight hours in near space altitudes between 65,000 and 90,000 feet in conducting more than 20,000 flights of its balloon-borne repeaters, Knoblach said. The Air Force awarded the company a $49 million contract to adapt its system for use by all the services, he said.
The Space Data system is relatively simple: it includes a standard weather balloon, a 6-pound electronics package that costs a total of $10,000, and a ground station that costs about $50,000. The balloons, which for military use carry a repeater that operates in the 225-400 MHz frequency band, stay aloft for about 12 hours.
In its oilfield operations, Knoblach said, the company launches one balloon after another to provide continuous coverage. Military users can just launch one balloon to cover a specific operation for 12 hours or operate them in a tethered mode as the Marines did in Afghanistan, though that reduces the range.
The company recovers the balloons used in its oil field operation, but in combat, troops might not conduct a recovery, depending on battlefield risks. While it may seem a waste of money to throw away $10,000 worth of gear, Knoblach said, "that works out to about $800 an hour for a 12 hour flight -- far less than the cost of operating [an unmanned aerial vehicle]" equipped with a similar communications package.