Americans give low marks to Obama transparency effort at agencies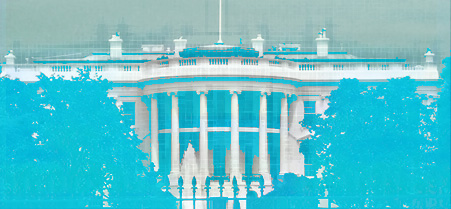 Kelly Martin/Nextgov
The public isn't convinced that the Obama administration is being fully open with Americans, more than a year and a half after the president launched a governmentwide transparency effort, according to a new survey conducted by ForeSee Results and Nextgov. But compared to regulated industries in the United States, the White House is doing a lot better.
The White House earned a score of 46 out of a possible 100 on its attempts to be transparent about what the West Wing is doing; federal agencies came in with an aggregate score of 40; Congress rated 37; and the banking and health care sectors both were at 32. At the bottom of the list: the energy industry, with a 30 rating. To measure perceptions of transparency, ForeSee Results, a market research firm, conducted an online survey asking participants to evaluate the thoroughness of the information various federal organizations and industries disclosed; the speed with which that information was released; and the ease of accessing it.
Click here for the full ForeSee Results analysis of the survey.
The Foresee-Nextgov Government Transparency Study randomly questioned 5,107 people from Aug. 25 to Sept. 4. The American Customer Satisfaction Index statistical engine parsed the answers to the survey to generate a numerical score. The purpose of the project was to assess the impact of the so-called open government memo -- a notice to agency heads that President Obama issued the day after taking office. It aimed to instill a culture of full disclosure, citizen involvement in policymaking and public-private collaboration.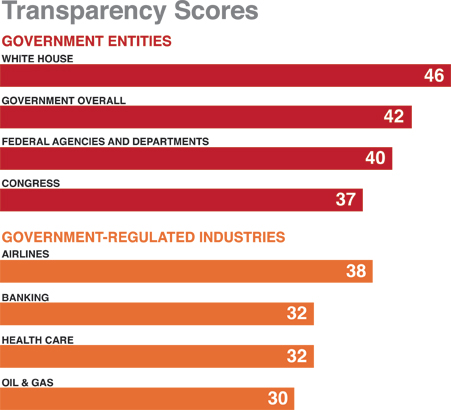 Source: ForeSee Results
There are several reasons why Americans -- and agencies -- might not yet be buying into Obama's transparency campaign, Foresee Results analysts said. For one, the economy has tanked, causing people from all walks of life to lose faith in what the government is saying and doing. Nearly a third of respondents had lost their jobs, or had a spouse who had lost a job in the past two years. A quarter had experienced a large decline in the value of investments they had relied on for daily expenses. Fifty-six percent reported their close personal friends or extended family members had lost a job. Twenty-three percent said their friends or family had lost a home.
Americans also seem to have a more cynical view of the government's honesty than they did a few decades ago, the researchers found. Information is more abundant in the Internet Age, so people are more aware of facts and opinions that contradict what the government is saying. Compared to just a year ago, 48 percent of respondents said their level of trust in the government is lower.
"The citizen is becoming more knowledgeable. That raises the bar," said Larry Freed, president and chief executive officer of ForeSee Results, an Ann Arbor-based firm that collects and analyzes data for numerous ACSI reports, in conjunction with the University of Michigan. "The testimony of the automotive executives is on prime-time TV and bank bailouts and the BP oil crisis are on every day -- we tune much more into it. ... You can't hide from it and then you expect more transparency."
Despite the low scores, the study does not indicate the open government movement is a waste or a failure, Freed said.
"The White House is leading here. It's good news that they are out in front of the rest of government," he said. "But it's a long journey."
Click here for analysis of a separate Foresee Results study of public perceptions of the transparency of agency websites.
Outside experts and good government activists agreed the nation is in the initial stages of a transparency evolution. "If you take the long view, let's say 50 years, there is no question -- with a few [foreign] exceptions -- that governments are more transparent than they ever have been in the past," said Anthony D. Williams, co-author of the 2007 bestseller Wikinomics (Portfolio, 2006) and a senior fellow with the Lisbon Council, a Brussels-based think tank.
One and a half years into the Obama administration is "actually a very short period of time if you think about," he added. "It would be a bit early to assess final judgment on whether this is a success." A September follow-up to Wikinomics , titled Macrowikinomics , spends a chapter on the subject of "rebooting the public square" by harnessing the online masses to improve policy outcomes.
Williams noted executive branch officials have taken clear steps toward greater openness by releasing data through online platforms such as Data.gov , a clearinghouse of federal statistics. "But they haven't hit the mainstream yet," he said. Agencies and nongovernmental organizations need to let people know that information is out there and ensure it is understandable to the general population, Williams added.
Freed said Congress appears less transparent than the White House, largely due to politics and the fact that lawmakers have yet to embrace a transparency doctrine. Obama's memo set the standard for agencies, but the legislative branch makes its own rules. The question citizens have of Congress, he said, is "What's being prioritized -- transparency or party allegiances?"
White House officials acknowledged that for too long sources of government information have been inaccessible or hard to navigate. "As part of the president's open government initiative, we are implementing unprecedented transparency and reform efforts to make government more open, efficient and responsive to the American people," said Jeffrey Zients, deputy director of the Office of Management and Budget and chief performance officer.
"We are committed to making data available through sites like [stimulus-tracker] Recovery.gov , Data.gov and [contract-funding site] USASpending.gov ," he added. "By deploying new technologies to create greater openness and incorporate ideas from outside Washington, we can make government work harder, better and more efficiently for the public."
Demographics also play a part in who does and does not think the government is being open about its operations. Not surprisingly, those who characterized themselves as "liberal" or "very liberal" rated federal transparency at 50 and 48, respectively, while people who had attended a Tea Party event in the past year rated the government at 32, the study found.
Younger respondents had more faith in transparency efforts than older participants. Those ages 18-24 scored transparency at 48, and the ratings generally went down from there as the age of respondents increased. Suburbanites gave the government a 40 rating, while city dwellers scored transparency at 46 and people living in rural areas rated it at 34.
Participants in online social networks viewed the administration as more open than nonparticipants, according to the study. People who use social media pegged transparency at 48; those who do not ranked it at 38.
"They are a little more plugged into what the administration is trying to accomplish," Williams observed. "That crowd is probably more interested in the transparency trend."
Higher-educated respondents graded the government more generously than those with less schooling, with one exception: people who did not finish high school. High school graduates rated transparency at 39 but those without diplomas rated transparency at 45, the analysis found.
Of note, whites did not give the government high marks on transparency, according to the results. While blacks gave the administration a 54, whites handed it a 36. Neither income nor gender had an impact on people's perspectives, the researchers discovered.