Senate panel denies IED group $400 million emergency funding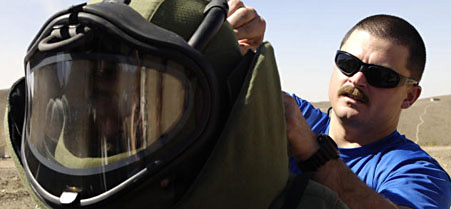 A Naval officer readies a bomb suit helmet in preparation for IED training. Dawn Lim/Nextgov.com
The Senate Appropriations Committee denied a $400 million emergency request from the Defense Department group that disarms improvised mines, a move that effectively turns off the funding spigot for neutralizing what is still the largest source of casualties in Iraq and Afghanistan.
Lawmakers also questioned why Defense included funding for unmanned aerial vehicle projects, which will take years to develop, in an emergency war funding request for an intelligence, surveillance and reconnaissance task force set up by Defense Secretary Robert Gates in April 2008 .
Faced with increasingly sophisticated mines in Iraq and Afghanistan, Defense established in 2004 the Joint Improvised Explosive Device Defeat Organization to develop systems, including electronic jammers, to counteract the deadly roadside bombs. The program was modeled after the Manhattan Project , which developed the atomic bomb during World War II.
Since 2004, Congress has provided JIEDDO with $15.9 billion, the Senate Appropriations Committee said in its report. JIEDDO requested $3.5 billion for fiscal 2011, bringing the total funding for the group to $19.4 billion for seven years.
But in a report on the Senate's fiscal 2010 governmentwide supplemental appropriations bill, which was made publicly available on Thursday, senators drew the line on JIEDDO's request of $400 million in supplemental funds because, among other reasons, the organization hired private contractors for $24.6 million to carry out intelligence operations in Iraq.
Michael Furlong, senior civilian officer for the Joint Information Operations Warfare Center at Lackland Air Force Base in Texas, had funneled JIEDDO funds to contractors to hunt insurgents in Iraq under an information operations contract, The Washington Post reported in March.
JIEDDO also requested $16 million in its 2010 supplemental budget to develop an airship that would carry sensors to detect IEDs, even though its charter prohibits it from acquiring platforms such as airships, the committee said in its report.
Senators took sharp exception to JIEDDO paying for Army IED projects, saying it viewed this as an end-run around Congress, with the service using JIEDDO as a way to get cash. The committee transferred the organization's $400 million request to the Army.
The ISR task force, which has received $5.3 billion in funding since 2008, wanted to use the fiscal 2010 supplemental to develop an airship and an advanced radar system for an unmanned aerial vehicle.
Since it takes years to field these systems, the committee questioned how they fit with Gates' stated goal for the task force: "Speed [of] deployment and enhancement of operational capability should be the prime objectives in evaluating all available options."
Congress has given billions of dollars to JIEDDO and the task force, and provided both with the authority to bypass traditional acquisition rules. The committee said it expected the two organizations would not abuse that flexibility. "Unfortunately, the record shows that JIEDDO and the ISR task force have used their authorities to make investments that were outside of specific program directives, unwise, or not suitable for organizations focused on rapid fielding," members noted.
Senators said they planned to exercise increased oversight and scrutiny of both organizations and others that operate outside standard acquisition systems.
The move comes after Gates warned this month in a speech on Defense spending at the Eisenhower Library in Abilene, Kansas. He said the terrorist attacks on Sept. 11, 2001, "opened a gusher of defense spending that nearly doubled the base budget over the last decade, not counting supplemental appropriations for the wars in Iraq and Afghanistan.
"Given America's difficult economic circumstances and parlous fiscal condition, military spending on things large and small can and should expect closer, harsher scrutiny. The gusher has been turned off, and will stay off for a good period of time," Gates said.