Defense readies system to treat PTSD, brain injuries remotely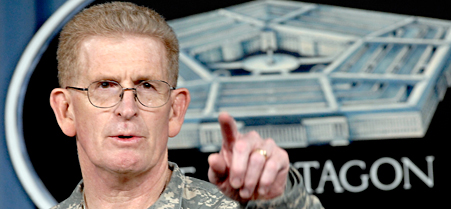 032210schoomakerNGins (Mar. 22) - Army Surgeon General Eric Schoomaker wants the service to begin providing mental health services over the Internet. R.D. Ward/Defense Department
Thousands of miles and a lack of facilities have kept the Army from providing treatment to soldiers with post-traumatic stress disorder. But the Defense Department plans to deploy a solution soon that relies on a transportable telehealth system that will virtually bring doctors to patients.
The portion of Iraq war soldiers suffering from PTSD is estimated to be as high as 35 percent . As a result, Lt. Gen. Eric Schoomaker, the Army surgeon general, has pushed the service to consider using technology to provide much-needed treatment.
The National Center for Telehealth and Technology , which is part of the Defense Centers of Excellence for Psychological Health and Traumatic Brain Injury, took delivery last week of its first transportable unit, said Matt Mishkind, acting chief of the center's clinical telehealth division. It marks a first step in meeting Schoomaker's challenge to use technology to replace face-to-face sessions between clinicians and soliders.
The telehealth unit is actually a standard 8-by-20 foot shipping container that houses most of what can be found in a brick-and-mortar clinic, including three treatment rooms. The difference, however, is there is no doctor on staff. Patients see physicians via the unit's computer network, which is equipped with video teleconferencing (VTC) systems supplied by Tandberg.
VTCs allow a clinician to view a remote patient, an essential part of treating PTSD and traumatic brain injury, said Gregory Gahm, director of the National Center for Telehealth and Technology and a retired Army psychologist with 20 years of active-duty service.
When treating brain injuries, a remote clinician will use the VTC to evaluate a soldier's gait, for example, which is a good way to evaluate brain damage typically caused by an explosion, he said.
The first transportable unit, manufactured in Hawaii, arrived at the center's headquarters at Joint Base Lewis-McChord in Tacoma, Wash. It is outfitted with room partitions and wiring. Officials planned to install the VTC equipment at the headquarters, test the systems and start treating remote patients in American Samoa in the South Pacific later this year, Mishkind said. The unit also will treat members of an Army Reserve unit deployed in Iraq, linking them to clinicians at the Veterans Affairs hospital in Honolulu.
The unit will be installed at a VA clinic in American Samoa, allowing the Telehealth and Technology Center to piggyback on a dedicated VA T-1 line (1.544 megabytes per second) between the two islands.
The center also is developing other programs to treat the invisible wounds of war, including one that will use virtual reality to treat PTSD , a Web site to help troops and their families deal with issues that arise after they return from combat, and an iPhone application for clinicians to use when treating PTSD patients.