What's going on with DHS' enterprise cloud plan?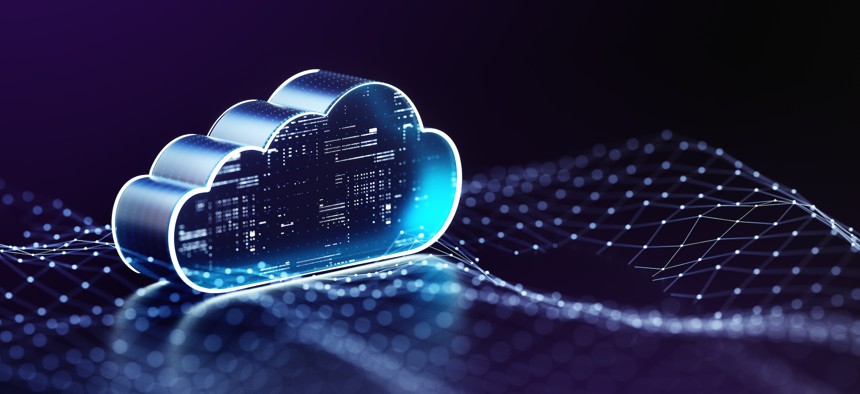 The Department of Homeland Security teased its plan for a 10-year enterprise cloud contract in the fall and then went relatively quiet. Based on previous cloud procurements, that could be a good thing.
The Department of Homeland Security's plan to bring enterprise cloud services to its expansive and diverse mission sets is, for the moment, on standby. 
After offering initial details of a proposed 10-year, indefinite delivery, indefinite quantity contract vehicle known as Enterprise Cloud Infrastructure Provider Suite—ECLIPS for short—at a November industry day, DHS officials have been quietly assessing their procurement strategy with only two updates in the past six months. 
"As draft, in-development ECLIPS strategy and requirements documentation become closer to finalization, we fully intend on providing further information regarding key project milestones and anticipated completion dates," officials said in a May 1 notice on Sam.gov, noting that they continue to receive feedback from industry and may conduct further market research as a result. 
Beyond the promise of another update in June, there's not much else to go on in terms of detail for a cloud contract meant to service the federal government's third largest agency and its 22 components. But looking more closely at ongoing technology acquisition moves within DHS, a broader trend emphasizing its headquarters' ability to provide enterprisewide cloud services starts to fall into place.
"I think it's been a maturation process for the DHS [chief information officer]. Over time, they've crystallized their thinking around this notion of enterprise service delivery across the entire DHS enterprise," said Chris Cummiskey, CEO of Cummiskey Strategic Solutions and former DHS undersecretary for management. "That is something that earlier CIOs wanted to achieve, but I think there was a confidence gap with some of the components as to whether or not headquarters could actually deliver top-flight services consistently in a variety of different arenas." 
Thanks to a series of recent contract actions and developing acquisitions, including ECLIPS, DHS headquarters may be closing that gap. 
Cummiskey pointed to several contract moves—including the $2.68 billion Data Center and Cloud Optimization Support Services contract awarded in February, the ongoing transition to the Enterprise Infrastructure Solutions telecommunications contract, the Secure Enterprise Network Systems, Services, & Support recompete and others—as helping stand up the agency's capacity to deliver on enterprisewide cloud. 
"You are seeing a whole raft of these come out, and I think there's greater confidence now at the component level that DHS CIO can deliver high-quality services that other components can take advantage of," Cumminsky said. 
One of the benefits ECLIPS may have toward its goal of achieving buy-in for enterprise cloud from its components is that its leadership has emerged from those components and understands how the individual agencies' needs could diverge under the proposed IDIQ, most notably, Deputy Chief Information Officer Beth Cappello. 
Cappello, who previously served as Deputy CIO at U.S. Immigration and Customs Enforcement and executive director for U.S. Customs and Border Protection, has been the point person for DHS' public-facing efforts on ECLIPS, including on its industry day. 
Speaking at FCW's Cloud-Driven Transformation event on Nov. 16, Cappello said ECLIPS' success would also depend on its adaptability in a hybrid environment that includes one data center, colocation sites and some on-prem facilities in addition to multiple cloud networks. 
"In looking at that complexity, it's going to be really important in this vehicle that we think about all of these things and make the vehicle as flexible as possible to meet all of the requirements across the department," she said at the time.
Another factor in the anticipated procurement is correctly defining its requirements and structure as to limit the potential protest challenges seen in other enterprise cloud procurements, most notably the Defense Department's failed Joint Enterprise Defense Infrastructure contract.  
DHS' November industry day documents lay out plans for an IDIQ with four to eight awardees, either cloud service providers or software resellers, providing Infrastructure as a Service, Platform as a Service and Software as a Service offerings.
To successfully solicit such a large and complex contract, DHS officials may look to examples of other cloud awards, such as the Intelligence community's Commercial Cloud Enterprise or the DOD's JEDI successor, the Joint Warfighting Cloud Capability contract.
DOD CIO John Sherman said last week that the new contract was fielding dozens of task orders, in part because the Pentagon is not attempting to supersede what its components are doing with cloud individually, but attempting to complement their efforts. 
Cummiskey said DHS CIO leadership also understands that it's wise to meet the components where they are on their technological journey to help achieve enterprise cloud buy-in.
"You have to craft something that's broad enough to add value while at the same time recognizing that they have got some unique capabilities that they are going to be delivering," he said. "I think the good thing is that they've taken a little additional time on the front end of this, through the strategy and planning part of the acquisition process. By doing that, I'm hopeful that the requirements will be tighter, and they will be in a much better position to withstand any challenges that come down the line."