Veterans Affairs committee Dems offer bills to streamline VA operations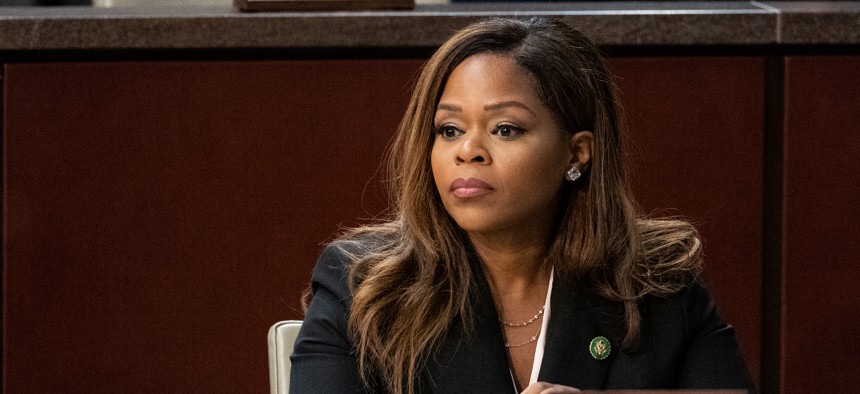 The two proposals would seek to consolidate business functions at the agency and independently verify and validate IT modernization efforts.
Two bills, cosponsored with Subcommittee on Technology Modernization Ranking Member Sheila Cherfilus-McCormick (D-Fla.), aim to tackle pain points at the agency centered on its information technology modernization plans and acquisition management. 
"I hope this is the beginning of a bigger discussion about making VA work better for veterans and moving VA healthcare into the future," Takano said in a statement. 
The Manage VA Act would establish a VA undersecretary for management tasked with consolidating and optimizing business functions in an effort to counter past acquisition challenges. 
In his statement, Takano noted that the Government Accountability Office's High Risk list has spotlighted VA acquisition challenges since 2019, and the legislation would establish an official role to oversee basic management functions across the department. 
The Department of Veterans Affairs IT Modernization Improvement Act of 2023 would direct the VA to contract for "independent verification and validation assessment" of its Electronic Health Records Modernization, Supply Chain Modernization, Financial Management and Business Transformation and the Veterans Benefits Management System.
"These bills will support effective implementation at VA and focus on building up our capacity to provide the healthcare and benefits our veterans deserve while ensuring that taxpayers are getting what they are paying for," Cherfilus-McCormick said in a statement.  
The VA has been under continued scrutiny for the rollout of its troubled $20 billion-plus electronic health records modernization project with Oracle Cerner. GOP Reps. Matt Rosendale (R-Mont.) and Mike Bost (R-Ill.) introduced legislation in January to force improvements to the project or cancel it. Bost is the chairman of the Veterans Affairs Committee; Rosendale holds the gavel on the tech subcommittee.
Takano came out against the Republican plan shortly after it was introduced, noting that its proposal to revert to the former legacy VA system, the Veterans Health Information Systems and Technology Architecture electronic health record, was not a viable option.