VA, Oracle are negotiating a five-year option on troubled health record software contract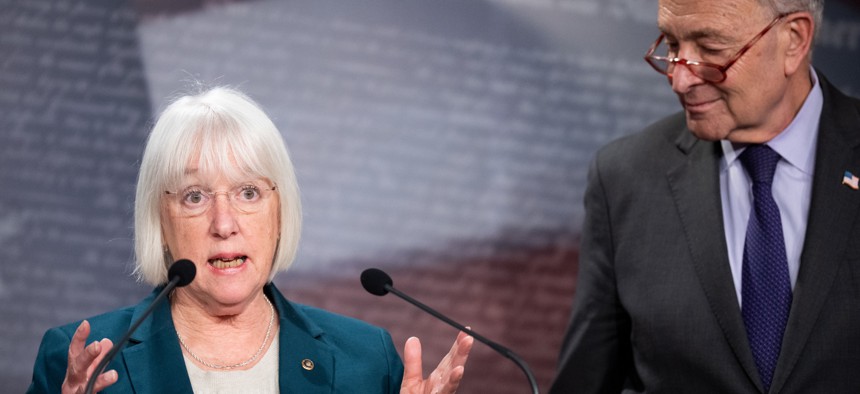 The Department of Veterans Affairs is in the midst of negotiating a five-year option period on its $10 billion contract with Oracle Cerner for electronic health record software. 
The May 16 expiration of the initial period of performance is attracting attention from lawmakers because of the array of technological, usability and governance problems affecting the VA's efforts to stand up the new electronic health record at a handful of clinical sites while also putting patients at risk.
Sen. Jon Tester (D-Mt.), the chairman of the Senate Veterans Affairs Committee, said at a Wednesday hearing that he wanted to see "tougher" terms in a renegotiated contract with "severe penalties for poor performance." Tester added that "if Oracle won't agree to those terms, then the VA should be prepared to…renegotiate an entirely new contract or find a different team of partners." 
According to Tester, the VA told Congress just this week that four veterans died under VA care from causes linked to ongoing issues in the implementation of the new electronic health records system. Specifics were not mentioned in the hearing, but as noted in previous oversight reports the Oracle Cerner record has problems processing prescriptions, medication management, clinical referrals and identifying patients at risk of suicide. 
Sen. Patty Murray (D-Wash.), whose constituency includes the initial deployment sites for the new record, said she had heard directly from providers who are "burnt out trying to navigate this broken interface on top of what has been incredibly trying time for health care workers" and from patients "who have received a late cancer diagnosis because of the flaws in the system.
"None of this is OK," Murray said.
"One of the key items we're looking at is improving the frustration…around the limited enforcement mechanisms of the May 2018 contract. It's very restrictive," Michael Parrish, VA's chief acquisitions officer, told lawmakers at the hearing. "What we are renegotiating with the Oracle team is to strengthen and add more enforcement mechanisms especially around service level agreement."
VA contracted with Cerner on a sole-source basis in 2018 to put its clinical records into a version of the same system being fielded by the Department of Defense.
Neil Evans, a longtime VA physician and official who is leading the Electronic Health Record Modernization Program on an interim basis, noted in his testimony that a significant update in February has resulted in some improvements in user satisfaction. Additionally, Evans noted that Oracle Cerner has met the contractual uptime requirements over the last six months. VA users of the new system are also experiencing issues that aren't tied to the vendors.
"Because not all system interruptions are the result of Cerner activity—issues with other systems that connect to the EHR can impact it—VA continues to work with our partners at DOD and the Federal Electronic Health Record Modernization office to reduce downtime within the EHR enclave and the systems connected to it," Evans said.
A sprint report shared by the committee included an appendix covering priority new service requests for "patient safety related IT enhancements" that lists a compatibility issue with the Defense Department as the top issue. DOD's Defense Enrollment Eligibility Reporting System is overwriting veterans' identity data, resulting in problems delivering medications by mail.
"Policy issues are causing block of solutions despite 5 years of joint workgroups due to roadblock on DOD/Defense Health Agency component," the document states. No timeframe is given for the implementation of a solution to this problem.
VA Secretary Denis McDonough addressed VA's role as a partner with DOD in fielding the Oracle Cerner system at a January press conference. 
"Too often we're a downstream consumer of this infrastructure. And too often our concern becomes secondary to, for example, DOD, which manages big parts of the network. This makes implementation of the system harder than it might otherwise be," McDonough said.