IT spend reporting requirements still stuck at halfway point, watchdog finds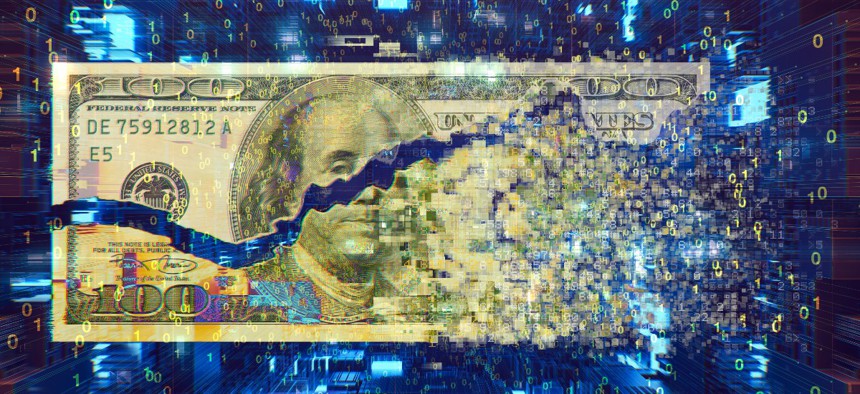 The Office of Management and Budget and General Services Administration have taken steps to implement and facilitate governmentwide adoption of the Technology Business Management framework, however, more work could be done to further this effort, according to a Government Accountability Office report released Thursday.
The government began to implement the Technology Business Management framework in 2017 to help agencies manage their IT resources. The framework is an accounting standard for how agencies spend their budgets on IT. It is organized into four layers—and categories and subcategories within those layers—that are designed to show an organization's total IT spending from different angles: cost, consumption and performance. TBM includes standard categories that agencies must use in their annual IT budget requests. These categories group related IT expenses together to allow for more insight into the cost and values of IT resources and allow for governmentwide IT spending comparisons. 
The government's TBM policy currently only requires agencies to report IT spending in two of the four layers: cost pools and IT towers. As a result, GAO stated that "OMB currently requires agencies to implement half of this framework," despite OMB launching the governmentwide adoption of the Technology Business Management Council's framework just over five years ago. 
GAO noted that agencies are currently not required to include the remaining two layers—products and services, and business units and capabilities—as well as the subcategories in each of the four layers. 
The watchdog added that while OMB and GSA initially helped agencies implement TBM, they have not performed an agency maturity assessment on these efforts, nor have they analyzed the quality of the currently reported data. GAO also found that, although OMB and GSA released agency data for layers 1 and 2, they failed to disclose that approximately $31 billion in fiscal year 2021 investments were not included. OMB and GSA have also not analyzed inconsistencies in fiscal year 2022 data or addressed benchmarking to allow for spending comparisons between similar organizations by either size or mission. 
"OMB and GSA officials maintain that Technology Business Management implementation continues to be a priority," GAO said. "Nevertheless, until OMB establishes documented plans and agency expectations for the remainder of the taxonomy, uncertainty will cloud agency efforts." 
GAO made seven recommendations to OMB and GSA. 
The watchdog recommended that OMB direct the federal chief information officer to: 
Create plans and a time frame for governmentwide TBM adoption for the remaining elements of the framework.
Work with GSA to build a maturity assessment of agencies' implementation of TBM.
Require agencies to submit complete TBM maturity model assessments to OMB and GSA.
Publicly disclose known limitations in TBM data for fiscal year 2021 on the IT dashboard.
Analyze agency-reported TBM data discrepancies with IT portfolio spending data. 
Additionally, GAO recommended that OMB's Office of Federal Financial Management and its Budget Review Division work with GSA's TBM program management office to determine the proper next steps for updating budget object classification codes in a way that better aligns agencies' financial management systems with the classification of TBM. 
GAO also recommended that GSA instruct the director of IT data transparency at the Office of Governmentwide Policy to develop TBM benchmarking functions for the IT Dashboard.